Rose gold has a long history in the jewelry market. now, it's breaking into the home fashion world, and just about everything is offered in the shade: electronics, kitchen gadgets, flatware, barware, hardware, appliances, furniture, lighting fixtures, textiles and more. The combination of yellow gold alloyed with copper results in a warm pink hue. As Rebecca Mead of The New Yorker says, "[It's] what yellow gold would look like if it suddenly suffered an embarrassment."
Metal, by nature, is a strong statement in any room, so overdoing it can cause interior chaos. It can either steal the attention or be a softer finishing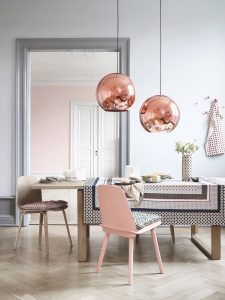 touch when paired with neutral-colored elements. The beauty of rose-colored metal is that it perfectly blends with any raw, natural material such as leather, marble or wood. Some suggested colors to match with rose gold and bring soft, earthy tones to your home are nudes, peaches, muted eggplants, army greens and ivory.
So how do you incorporate this trend into your home? It's easy. Rose gold can complement a variety of design schemes, from rustic to modern to minimalist. If you're not sure about adding rose gold to your home décor, it's easy to try it out. Designers suggest using the metal in small doses around your home for a subtle pop. This can make the room look more sophisticated, rather than trendy or cluttered.
In the kitchen, try adding rose-gold hardware to your cabinets and incorporating the metal in accent pieces—a tea kettle, a French press, a toaster, a waste basket and a paper-towel holder. This will make a statement without making a space feel too formal. In the bedroom, opt for rose-gold-colored textiles and small pieces like picture frames, candles, clocks and wall art. In the living and dining rooms, choose furniture with rose-gold accents, like a coffee table from Anthropologie or bar cart from CB2. And be sure to focus on lighting; the shade looks especially nice in fixtures because of the warmth it spreads.
A rose-gold pendant light is great over a dining room table, and a lamp makes a great accent piece. When the holidays arrive, rose gold is an interesting element for centerpieces and table settings. You can seamlessly include rose-gold tones in your seasonal decorations, adding an extra touch of warmth. If your favorite pieces aren't available in rose gold, you can go the DIY route by using metallic spray paint. It's an easy solution for accent pieces while keeping your budget low.
"Rose gold for me has really become the metal of the moment," says Josephine Kurtz Green, lead designer and showroom manager of the Kurtz Collection in Wilmington. "It's a great metallic that we're now seeing popping up everywhere in home décor. It's easy to incorporate into any space, whether it's an appliance or a pendant light fixture in your kitchen or a simple vase in your living room.
Green notes that rose gold is also a neutral. "It will really go with anything but adds a hint of color and interest. I love the reflective quality it has, and it also brings a note of warmth. It can make a big statement used sparingly and can be more of an unexpected metal to mix with your decorating."
Just because rose gold is on trend doesn't mean it isn't timeless. Metals like silver, copper, brass and gold never go out of style, and they're seasonally versatile. If you love the shade but aren't willing to part with silver and gold, don't worry—there's no using one color, one material or one metal anymore. Mixing and matching gives a unique, chic look to your home. "Decorating is the pursuit of what makes a room more interesting, more harmonious," says interior designer Nate Berkus. "What can you discover, unearth, combine?"
Done the right way, rose gold can create a calm, soft sense of opulence in any room.