It's only natural to fall in love with an object that comes to us from another time. That rare Navajo rug, we think, would look just dazzling over the fireplace in the study. Or this Japanese vase from the Meiji period could fit perfectly on the entry table in the hallway.
But some lovers of antiques think bigger. They imagine: "When I renovate the downstairs, wouldn't that colonial mantel be just the thing for the fireplace?" Or, "That 19th-century Philadelphia townhouse door could make a great entryway for the mud room in the house I'm having designed."
This desire to repurpose antique architectural fragments—features from old buildings that have fallen down or been demolished—can be imaginative and far-ranging. It can include massive beams and siding retrieved from old barns and farmhouses, rustic bricks, stonework and rare wallpaper recovered from old city homes and industrial buildings, and iron gates, hinges and latches. And there are many other objects that can be re-deployed in the interiors or exteriors of our homes, or even used as decorative elements in gardens.
It's a point of view that West Chester architect Richard Buchanan constantly encounters, and avidly encourages.
For example, Buchanan tells the story of one of his clients who had kept a lightning rod salvaged from a demolished farm silo that, as an ornament, he thought was quite special but he wasn't sure where he could use it. After some thought, Buchanan came up with a solution. "We decided to add a staircase tower to the house, with the lighting rod on top," he says, showing a photo of the finished project on the wall of his offices.
Some people love restoring old buildings, while others want to start from the ground up with completely new construction. But many people dwell somewhere in between, includiing architectural fragments they or their architects have collected to add special touches to existing or new homes, trying to achieve some measure of homey authenticity.
"There's not much of an interest locally in the industrial esthetic" of old factories and industrial structures, says Buchanan, a partner in Archer & Buchanan. "Rather, people are today much more comfortable with the agricultural metaphor of barns and farmhouses."
And you don't have to be planning a major makeover or getting ready to move into a new home to get swept up in this "what's-old-is-new" mindset. Adding an architectural fragment to an existing home is often less expensive and less life-disruptive than finishing a basement or building a sunroom. And different people approach adding architectural antiques into their daily living in different ways. Some identify parts of their homes that need that little something extra, then go shopping for it. Others will stumble across a stunning architectural fragment and think: "Now, where can I put this?"
It's an easy thought pattern to fall into if you're browsing in places such as Stevens Antiques, appropriately housed in a historic bank barn on Lancaster Avenue just off Route 202 in Frazier. Manager Carol Lehman takes me on a tour of the vast, comfortably cluttered showroom and then to a large storage facility out back. Stevens is one of several places in the Brandywine Valley and nearby West Philadelphia that specialize in pieces of antique architecture.
In addition to antiques shops that stock old doors, fireplace mantels, chandeliers and other large lighting fixtures, commercial salvage firms often carry larger pieces and have a keen eye for what can be saved and re-purposed when an old building is about to be torn down.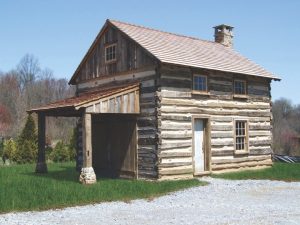 Monroe Coldren and Son in West Chester, like Stevens, also has many architectural fragments for sale. At Pre-Demolition Sales in Bryn Mawr, items from old and historic buildings, including structural ones, are auctioned off before the buildings are taken down. And there are firms that help recycle these fragments, such as Ball & Ball in Exton, whose main work is metal reproduction. But they also restore old metal objects or repurpose them as needed.
It is difficult to establish a price range for architectural elements, as many pieces need restoration. An old window frame or a pedestal may cost a few hundred dollars, while beams and wall segments go for thousands. Plus there is the cost of having a builder move and install it, and a design firm may be needed to figure out how it can fit into another building.
"We find that a lot of people are going away from the trend of large, open interior spaces," Lehman says as we wind our way through the store, "and they are now looking for ways to break up the space. Instead of adding permanent walls, they are using architectural elements to do this." As an example, she points to some large, louvered panels that had once been exterior walls on a balcony or large porch, and which now sport the patina of age that would add character as large space dividers.
She points out perhaps a dozen or more fireplaces, some cozy and some huge, and, surprising, several yards of cast-iron balcony railings. Then there is a foot rail to a bar, a former counter in a country store, a tall library ladder and the great seal of the state of Pennsylvania.
I don't, however, see any stained or leaded glass windows, a common must-have a few years ago. That would have surprised me, except that Buchanan had earlier told me that Victorian items are not in much demand—another esthetic that has gone the way of big brass beds.
Sometimes, Buchanan says, either he or a client will settle on a particular type of fragment that is needed for a building being designed or re-designed and will set off on an architectural scavenger hunt, working both online and going to demolition pre-sales. Some movable objects can be retrieved before demolition, while others must wait until the takedown is completed. "People arrive in their pickup trucks and pick [the building] clean," he says.
Buchanan estimates that some of the buildings he designs utilize as much as 40 percent retrieved materials.