We find Van Heyneker in his cabinet and furniture shop inside a long, two-story, lumber shed tucked into a grove of trees at the end of a dirt driveway just off Route 52, opposite the Mendenhall Inn.
For a man who was shuttled in his early life between continents, it is probably not accidental that he creates objects that have weight and permanence. One need only look at the rather large bas-relief carving he is working on.
"It's a rake board for a turn-of-the-century Tudor house in Bryn Mawr that's being redone," he says as he shows off his design. A rake board, he explains, conceals the rafter ends under the eaves –in this case the ones located over the home's front entry. "It's an allusion to what was there before," he says, "and the architect, Peter Zimmerman, asked us to come up with a design."
Heyneker and his two associates make furniture and architectural elements by hand, all made to order.
There is no formal Heyneker show room and no inventory. Potential clients come to Heyneker with a thought, an idea, a photograph, and he engages them in the collaborative process. He can't remember ever turning down a customer because he couldn't work within their tastes.
Although Heyneker understands science and engineering, he knows his work is a craft that can rise to art. "We start by doing as much research as we can, if it's something we haven't done before," he says, "and after that, it's trial by fire. Every time we do a job that involves bending wood, it's like the first time." Of course, he does bring something to the table (or to the bed or cabinetry) – a knowledge of various species of wood and a thorough understanding of woodworking techniques. Still, "You have to do a lot of trials," he says. "There are a lot of pieces of broken wood that end up on the floor."
Heyneker's journey to Mendenhall began in his Calcutta birthplace. His father, a native of Amsterdam, fought with the Americans during World War II, and entered the Foreign Service as a U.S. citizen. The family went out on his postings. Heyneker had intended to go to college abroad, but instead moved with the family to the states when his father left the service.
As a piano major at West Chester University, he met Josie, a voice major with deep roots in the Brandywine (the Brintons, the Jacobs). They married, and he took a teaching position at the Settlement Music School in Philadelphia while Josie worked in local businesses.
With his summers free from teaching, Heyneker dabbled in millwork for extra money and found he liked working with his hands–perhaps not too surprising for a trained pianist. He also knew he could draw well and that he was, as he says, "mechanically minded."
He started his own furniture shop in 1987. In addition to housing the workshops, the Heyneker building also serves as a fine lumber business–there are stacks of cherry, maple, black walnut and other furniture-grade woods–for the special needs of local builders and woodworkers.
"This is where Virginia Woodward built furniture after she left Woodward Farm," Heyneker says, and he took up the tradition in the same space when
the well-known craftswoman retired.
"She's been an inspiration to a lot of people," he says. When visitors to the shop arrive, the first things they see are neatly lettered signs at the half dozen parking spaces that instruct them to "please leave your dog in the car." The second things they see are two imposing German Shepherds sniffing outside their car door, more curious than foreboding, one eventually determines.
The main workshop is downstairs just off the office, a large, open room where Peter Beck and Jim Bradley work with the radio often tuned to rock music over the whine of machinery. "The millwork is pretty formulaic," Heyneker says, "but carvings, repairs, and turnings are more difficult to predict." He also says he is trying to "push the skill levels" of the two younger men in the dying art.
When Heyneker leaves the office to work on a piece, he puts on his long cowhide work apron and climbs to a smaller studio upstairs where he keeps the more specialized equipment, some of which he has restored, others jerry-rigged to perform other functions.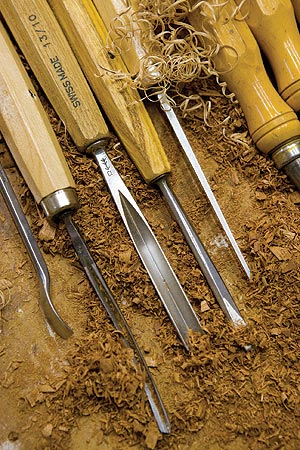 Most customers come to the shop referred by someone else and almost always with a project in mind–a piece of furniture, some cabinetry, architectural details, or wood paneling for a room. "We ask them to collect as many photos of the type of thing they have in mind as possible," Heyneker says. Most projects are intended to look like something the customer has seen but wants to have personalized.
"We usually end up deciding on some sort of a composite," Heyneker says, adding that most projects go through several sketches before he and the customer are satisfied. In some cases, he may actually make a "test" piece.
One client, for example, inherited adouble bed in the Jacobean style and wanted Heyneker to make a king-size version of it with matching bedside tables.The project not only required several sketches and a model, but Heyneker even made a new machine to build the bed– "a cross between a wood lathe and a machinist's lathe," he says. The type of wood he uses depends on a desired color, texture, or other qualities. He particularly loves creating with walnut.
About three quarters of Heyneker's business consists of commissions for new pieces, with the other quarter repairs or restorations, sometimes for museum collections. "I only work on one piece at a time," he says, "but I fill in with repair work around that, plus keep an eye on what the guys are doing."
A large job such as wood-paneling a room can take up to two months, he says.
As each piece is a one-of-a-kind work, Heyneker signs them all, in pencil generally— his name, the client, the date, and any other information requested— but occasionally he will use a dremel or a knife. "Pencil is best, because it's mineral, won't fade, and you can shellac it," he says.
Home is a nearby fixer-up farm where the Heynekers raise Percheron horses, chickens, and one Nubian goat. Woodworking is left behind at the shop.
Of course, neither has gotten very far away from their love of classical music. Josie is a soprano who still performs in Opera Delaware, and Van often accompanies her on the piano as she rehearses.
Does he ever perform as a pianist himself?
"Only behind closed doors," replies the cabinetmaker with a grin. Walnut paneled ones, no doubt.
Visit Van's Web site at: www.vanheyneker.com