A former English major, Nina Kelly has always been an avid reader and, in echoes of her university days, loves to compare notes with other readers. So when her late husband's cousins invited her to join their book club a few years ago, she readily accepted.
"I like the social aspect, as well as hearing the opinions of the other women in the group," says Kelly, who lives in Thornton, Pa., and is director of Marketing and Communications for the Chester County Conference and Visitors Bureau.
Kelly also enjoys the fact that being part of the group introduces her to books she might not otherwise choose on her own. She's a relative newcomer to the club, which began eight years ago and now numbers nine women. They meet every six weeks or so to socialize over dinner before discussing that month's selection, which is chosen by the host for the evening. Some of the group's favorites have included Richard Russo's Straight Man, Book Thief by Markus Zusak, Ken Follett's Century Trilogy and Hemingway's classic The Old Man and the Sea.
While Kelly may be relatively new to her group, book clubs themselves are not a recent phenomenon— though their popularity has certainly been on the rise. Indeed, the New York Times estimates that about five million Americans belong to face-to-face book clubs, with even more joining online reading groups like those hosted on the popular site Goodreads, which has 55 million members.
Like Kelly's book club, many are made up primarily, or exclusively, of women. That should come as no surprise, as the history of book clubs in this country is tied to women's rights. In the 19th century, when females were denied entry to most colleges and universities, many began meeting in bookshops or each other's homes to pursue an education on their own.
The Woman's Reading Club of Mattoon, for example, met for the first time in 1877 so that members could "expand their horizons and discuss new ideas." The Illinois group is still in existence and thought to be the longest continually running book club in the country.
More recently, a 2014 survey of American women who read at least one book a month found that 56 percent were in book clubs, and the majority of those were clubs that met in person.
Downingtown, Pa., attorney Kate Patarcity belongs to an all-female book club. The group meets monthly over dinner and typically reads fiction—a recent selection was Fredrik Backman's A Man Called Ove. Patarcity laughs, though, when pointing out the members are not particularly strict about actually reading the book. "We joke that, some months, it's more like a wine-drinking club."
"These are women I've seen religiously every month for 15 years," adds Patarcity. "We've been through babies, divorces, kids going off to college … We've been a part of each other's lives, and we know what each of us may be going through, so we don't hold anyone accountable if they haven't been able to read the book that month. It's as much about having time together as it is about reading."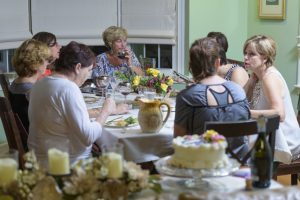 Not all book clubs are just for women. Nat Caccamo, who lives in Kennett Square, Pa., and works in the Exhibitions Department at Winterthur, is a member of the Kennett Beer and Book Club. "Very manly!" he laughs.
Caccamo and a friend of his formed the six-member group of "middle-aged dads" about four years ago. The group meets every four to six weeks to discuss what's come to be an eclectic selection of books, from Capitalism in the 21st Century by French economist Thomas Piketty (not a favorite!) to Steinbeck's Grapes of Wrath to books their young daughters have read. "And sometimes we just need a palate-cleanser and go for an Elmore Leonard mystery," says Caccamo.
Women are not specifically excluded from the group. It just turned out that none of the wives—or any other women, for that matter—belong, and that's OK with the guys. "This is our thing," Caccamo says.
Where book clubs meet can vary, from members' homes to restaurants (Caccamo and his group gather at the Kennett Brewing Company) to libraries or bookstores. Rebecca Dowling, owner of Hockessin Book Shelf in Delaware, hosts four different book clubs, some in local restaurants, others in her 828-square-foot store "We're tiny but we do amazing things," she says.
Her "Eat, Drink, Read" club, for example, meets twice a month. One meeting includes lunch at an area café. The other offers dinner, often catered in the
store, and focuses on contemporary fiction such as My Grandmother Asked Me To Tell You She's Sorry (yet another book club selection by popular Swedish author Frederik Backman) and Lazzaretto by Diane McKinney-Whetstone. The monthly "Mystery Lovers" club meets at the bookshop. Recent selections have includedHell's Kitchen by Jeffrey Denver, An Unsuitable Job for a Woman by P.D. James, and Not a Sound by Heather Gudenkauf,
Especially popular, says Dowling, is the cookbook club at Coverdale Farm, which meets four times a year. Those attending prepare several recipes from
that season's choice. Recently selections include dishes from Modern Potluck by Kristin Donnelly and Six Seasons by Joshua McFadden. "Somehow, we've never had a bad meal," Dowling says.
The fourth group, "Not Your Average Book Club," is for teen readers and adults who also enjoy young-adult fiction, a genre that is growing in popularity.
For Downing—who remarks that her shop is very much part of the community—the popularity of book clubs endures because they take the private experience of reading and enhance it by sharing it with others.
"In this internet age, where so much of what we do is solitary, coming together to eat, drink and talk about something we love is a natural extension of being part of a community," she says.
Start your own
Want to start a book club of your own? The popular online reading resource BookRiot suggests these tips for running a successful one.
1. Find others with the same interests. Whether you want to read from many genres or stick to one particular area, it's better to do it with other people who enjoy that genre, if not necessarily every book.
2. Keep the page count manageable. About 300 pages works best—long enough to have some meat to it and short enough that most people can finish it.
3. Timing is everything. Take into account members' schedules when it comes to how often the group meets and how long the get-togethers last.
4. Food and books go together. Whether it's a pot luck, lunch at the local deli or drinks at a brew pub, food and drink enhance the conviviality of the group.
5. Schmoozing is part of the fun. You're not being graded. Book clubs are an opportunity to get together to enjoy each other's company (and discuss the book, of course). Allow time for winding down from the day and catching up.