The Brandywine Valley isn't just known for its wine anymore, it's now home to a range of craft breweries that suit discerning beer drinkers' palettes.
A handful of breweries have been happily serving valley locals for years, two of which have become household names: Iron Hill Brewery and Victory Brewing Company.
Two recent additions to Brandywine Valley's craft-brewing movement, Twin Lakes Brewing Company and Boxcar Brewing Company, have gained significant popularity in the past five years, in part because of the receptive craft-brewing culture.
Samuel Hobbs, owner of Twin Lakes Brewing Company, completed research as an undergrad at the University of California Berkeley on acquiescent foam—the foam that holds beer together.
Later, while living in South Africa where met his wife, Hobbs fell in love with the wine industry and how wine could be paired with foods to create an entire dining experience.
After moving back to his native Greenville, Del., the thought of establishing a brewery resonated with Hobbs until the tragedy of 9/11 occurred, solidifying his desire to create a brewery. Hobbs says this was a pivotal point in his life, a time when he realized how important American freedoms were to this nation.
"One of our greatest freedoms is to drink beer," says Hobbs. The Founding Fathers used to conduct business in the local taverns surrounding the family farm on which Hobbs grew up. Hobbs has always felt a strong sense of patriotism on the land that has been in his family for over seven generations.
The idea that our nation's history began in taverns inspired Hobbs to gather a close group of friends, including his right-hand man Matt Day, and open a brewery on the family farm. Hobbs converted his grandfather's old art studio into a micro-brewery, and it grew from there into what is now a 26-barrel, steam-fired, gravity-fed, five-vessel brew house. Hobbs celebrates six years as the Twin Lakes Brewing Company, selling beer to the Brandywine Valley.
When asked what makes Twin Lakes beer so special, Hobbs says it's all in the water.
"[The] basis of good beer is good water," he says. Twin Lakes is proud that its water comes from the Brandywine Valley and is chlorine and fluoride free. The water is abundant with minerals that leave the beer with a refreshing taste. The beer is meant to be second to water in spirit.
Since the brewery is gravity-fed, no pump ever touches the grain. The beer is un-pasteurized and unfiltered, what Hobbs calls "living beer" because the yeast has not been boiled out. Twin Lakes uses only four ingredients: the essential Brandywine Valley water, whole flour hops, grains, and cultured brewers yeast. The simple recipe respects the Colonial tradition. This extends to the packaging and distribution of the Twin Lake's ale.
The baby keg that contains the Greenville pale ale is the brewery's best seller. It's canned with the sustainability in mind. The cans are recyclable aluminum, cheap to produce and protecting the beer from light, oxygen, and heat. Plus, Hobbs claims that cans, "Go to the party where bottles don't." Cans are where bottles are prohibited. Hobbs has made sure that you can get his famous baby kegs on your way to that fishing trip or while fine dining.
Hobbs distributes his beer in Pennsylvania, Delaware, and Maryland. The Greenville Pale Ale is available at Sovana Bistro, Waywood Beverage Co. and Origlio Beverage, and the brewery is open for tours and tastings. Several brewery events benefit charities such as the Brandywine River Museum and Winterthur.
When asked about the craft brewery movement in the Brandywine Valley area, an elated Hobbs talks about where beer is headed, stating, "I'm proud to have some of the best craft breweries right here in Brandywine Valley.
Hobbs explains that craft breweries open peoples' eyes as to how diverse beer can be. The monopolies of the past were marketing machines that created a stereotypical image of the American beer drinker, "Joe Six Pack." With the emergence of these craft breweries, beer making returns to the tradition of 200 years ago, not 50 years ago.
The passion Hobbs has for his craft is shared by fellow craft brewer Jamie Robinson of Boxcar Brewing Company.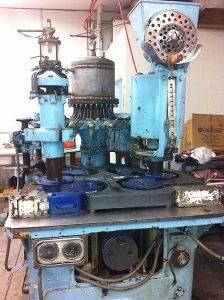 Boxcar Brewery began at the wedding of Jason and Kristen Kohser. Jason had created a vat of home-brewed beer for the occasion. Jason's cousin Kimberly McDermott and her boyfriend Jamie Robinson were at the wedding and were intrigued by Jason's new concoction. Jason, who for years had been home brewing and experimenting with different flavors, was excited to talk with Jamie. They decided to establish a brewery in their old stomping grounds of West Chester, Pa.
Jamie and Jason wanted to create accessible beers and invented a variety of brews that are considered drinkable and appropriate for most pallets. Their most poplar beers are their Original Ale, and the new Mango Ginger IPA. You can find them in West Chester, Philadelphia, Delaware, Bucks, Berks, and Montgomery counties. Next year Boxcar will be distributing in New Jersey and Delaware.
Get a taste of Boxcar at Ride The Rails on June 2, at 3pm, an event where guests can go on an old-fashioned train ride on the West Chester Railroad. Food and drinks will be provided at the Glen Mills Park. Tickets for this event are $40 and available online at boxcarbrewingcompany.com.
When asked about the craft brewery movement in the U.S., Jamie said he's excited to be part of it because of the possibilities. Jamie also mentions that the industry itself is very friendly. In the Brandywine Valley, locals have been receptive and supported the brewery's infancy.
Robinson and Hobbs would like nothing more than to see their family, friends and local beer lovers come out and raise a glass to new traditions.