It sits regally on a bookshelf in the family room.  An elegant sterling silver trophy topped by a splendid horse and rider, fashioned with horseshoe- shaped handles.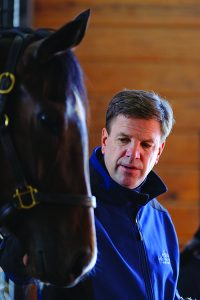 Trainer H. Graham Motion earned his Kentucky Derby Winner's Trophy last May when his strapping chestnut colt Animal Kingdom powerfully accelerated down the stretch, winning the 137th running of the world's most famous race.
Recalling the moment in his barn at the Fair Hill Training Center, Motion's eyes light up.
"It was an amazing experience," Motion relates. "To win the Derby is not something I ever expected to do. It is the pinnacle of racing."
It has been a storybook time for Motion since his turf horse Shared Account won a $2 million Breeders' Cup race in November 2010. Motion closed that year with more than $6.4 million in earnings, the ninth-leading U.S. trainer. He moved into the upper echelon of trainers in 2011 as the fourth-leading trainer with earnings in excess of $8 million as of November 5.
Tucked on the border of Chester County and Maryland, Motion's Herringwell Stable is a handsome structure with expansive polished wood stalls. It's surrounded by 350 acres of serenity, far from the constant clamor at the racetrack. His mornings start at 5:30 as he puts his horses through their training paces.
Like clockwork, all the horses are turned out in a grassy paddock for 30 minutes of freedom before they are exercised in groups, or "sets." Their workouts vary from a leisurely walk to a jog, gallop, or "breeze," sprinting at race-like speeds of 40 miles an hour at Fair Hill's training track.
"Everything we do is about getting the horse to relax," explains Motion, 47, who oversees 120 racehorses.  Turning them out is a nod to his mentor, Chester County Hall of Fame trainer Jonathan Sheppard.
"It helps take the edge off. For horses coming back into training and the more high-energy ones, we hack them through the nearby trails and meadows. They become more relaxed and that helps them to relax when they are in competition."
Motion's European-style training attracted Barry Irwin, managing partner of the prestigious Team Valor syndicate, who transferred 30 horses to Motion in November 2010. Six months later Irwin was holding aloft the Winner's Trophy at Churchill Downs.
"We felt we could have a more cohesive business and training environment with all of our horses in one place," Irwin says. "Graham is a very talented, thoughtful guy and his team at Fair Hill is a very impressive organization. Obviously, we're delighted."
Motion is one of the sharpest people in the business. He is constantly scrutinizing the details of a good horse—behavior, health, attitude, smarts, fitness—as well as insightful scheduling of the next race. Horse racing is a sport of extremes. A lot of things can go from euphoria to really bad, really fast. Motion had another top 2011 Derby contender in Toby's Corner. A hind leg injury knocked him out a few days before the race.
In early June Animal Kingdom lost all chance in the Belmont Stakes when he was clobbered by another horse leaving the starting gate and nearly tossed his jockey. Falling far beyond the field, Animal Kingdom rallied on the far turn but flattened out, finishing sixth.
"I was sick, the horse almost fell down." recalls Motion with a wince. "There's a lot of ways to lose in this game, but that's a tough way to lose."
Motion soothed the heartache the next afternoon in Manhattan by taking in the Broadway musical "Wicked" with wife Anita, daughter Jane, 15, and son Chappy, 8. A few weeks later he accompanied Jane to a "Glee" concert.
A racehorse trainer can succumb to tunnel vision—the next workout, the next race, the next injury report. On and on it goes. He hopscotches from track to track, spring through fall, then packs up for the winter season in Florida. Motion, a humble, unassuming man, and his wife lived that life for a number of years, but realized something was missing.
"Our kids go to the Sanford School here fulltime and that has relieved the stress of changing schools for our kids," Anita explains. "Our home is a mile from Fair Hill and Graham enjoys being here when the kids get home from school."
They also enjoy traveling and in recent years have vacationed in Turks and Caicos, the south of France, and Tuscany.
"I enjoy life and have other pleasures," Motion says. "It's important to enjoy what I have and I'm fortunate to have an incredibly good crew that allows us to get away.  We come back recharged."
Motion grew up at Herringwell Manor Stud, an English boarding horse farm operated by his parents. Michael was an international bloodstock agent, while Jo became the first American woman with a trainer's license.
Graham Motion went to work for Sheppard at his farm, where the 21-year-old lived in a guest room in the family home. He received a serious, old-school education. He traveled to England and France in the mid-1980s, working as a groom to four-time steeplechase champion Flatterer.
"You made your mistakes, but you did learn," says Motion. "Jonathan got his horses ready to run without racing them, just training at the farm. Not many people can do that. He's also got an exceptional work ethic and I like to think I picked up on that."
After a six-year stint, Motion headed to a training farm in France where he met his British-born future wife, who exercised horses. Today she runs the business operation with a pair of assistants.
It was Better Talk Now who shaped Motion's career when the horse rallied to win the 2004 Breeders' Cup Turf. Racing until age 10, the gelding retired with $4.3 million in career turf racing earnings that trail only the great John Henry.
Motion's roster of stakes winners in 2011 included Aruna, Daveron, Summer Soiree, Toby's Corner, Smart Bid, Sanagas, Hoofit, Dynamic Holiday, Unbridled Humor, Crimson China, and She Be Classy.
As for Animal Kingdom, he emerged from the Belmont collision with a slab fracture of his right hind leg that needed surgery at the New Bolton Center. Exceptionally powerful and athletic, Animal Kingdom is a throwback horse that races with flair on dirt and synthetic tracks as well as on turf courses. By November the dynamic chestnut colt had returned to galloping at Fair Hill, preparing for the 2012 season.
Known for his patient style and refusal to aggressively push young horses, the first Saturday in May had never been an obsession for Motion.
"The horse needs to take me there and everything has to align on the day of the Derby," he says. "I never thought it would happen so early in my career. Teaming up with Team Valor was an extraordinary twist of fate."