On a clear day in Nottingham Township you can smell potatoes sizzling in oil.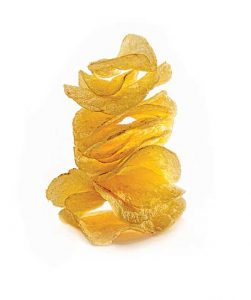 Well over 110,000 people arrive each year by tour bus, car, and bicycle to tour the Herr Foods factory, where 600 varieties of potato chips and pretzels are fried, baked, packaged, and sent to grocery store shelves, snack bars, and snack dispensers from Canada to Florida, as well as to military bases all over the world.
With no admission or parking fees, and paid guides, the tour has been a money-loser for Herr Foods ever since the factory was retrofitted with enclosed catwalks and balconies to accommodate visitors back in the 1980s.
Company President Ed Herr, son of founder James Herr, remembers there was some resistance among family members to opening the operation for tours. A close-knit clan of devout Mennonites, the Herrs worried that tours would bring too much attention to the company and its peaceful agricultural community.
For 65 years since 21-year-old James Herr bought a small snack-making concern in Lancaster County and then relocated to Nottingham, the Herrs have not seen themselves as owners of a thriving, privately held business in an exceptionally competitive industry. In the words of Ed Herr, the family is a "steward," that is, a caretaker of a heavenly gift that comes with special obligations and rigorous responsibilities that have nothing to do with how good the snacks taste.
Though it helps that the snacks taste very, very good.
The best part of the tour comes at the end, after your guide brings out a tray of warm chips. For most of us, eating a chip is an all-too-brief moment of salty, sensual joy, a greasy, guilty pleasure. To the Herrs, it's more than that.
"We see what we do as a great opportunity to be a blessing to people," Ed Herr tells me. And he means every word of it. When you take the tour you learn that potato chips were born in the U.S. In 1853, at a restaurant in the resort and racing town of Saratoga Springs, an obnoxious restaurant patron kept sending his fried potatoes back to the kitchen, claiming they were too soggy. The chef, who is believed to have been a Native American named George Crum, responded by slicing his potatoes paper thin, and frying them quickly in very hot oil, until they developed a sweet, crisp taste.
Look out on all those machines in the Herr factory and you"ll see a few people moving about, checking this, adjusting that, disposing of any chips that may have fallen off the conveyor belt. What you're not told is that Herr Foods did not lay off any of its 1,500 employees in the last recession, or in any of the country's previous economic reversals. The company likes to hire for life. When a job is made redundant because of automation or new efficiencies, employees are retrained for new tasks.
The factory itself is a model of a sustainable business. The water used to rinse the potatoes, and the peelings and any other organic debris, are fed to cattle on a farm the Herrs own a few miles away. A recycling firm acquires the used vegetable oil. Even the cardboard boxes in which the bagged snacks are packed return to the factory, where they are repaired, if necessary, and put back on the assembly line. The Herrs adopted sustainable manufacturing long before it was fashionable because the concept was part of the Mennonite farming culture.
The family also buys as many potatoes as possible from local farmers and is remarkably generous in their support of civic events and charitable causes. "A lot of what they do, you never see," says Eric Todd, Chairman of the West Nottingham Township Board of Supervisors. "I've watched them grow over the years. With almost all of what they do, they want to remain anonymous." "They are exceedingly generous, and very good neighbors," says Leo Levandoski, Chairman of Supervisors at West Nottingham. "They are precisely the kind of people you'd want running a business in your community."
That business has expanded to include a hotel, restaurant, and luncheonette across Route 272 from the company's offices. The family is refurbishing all three, with the expectation of opening them this year as moderately priced, informal establishments for families visiting the region, as well as business people working with the company.
"We are a faith-based business," Ed Herr explains. "Our family has made God a big part of our lives. We also believe in having respect and honor for all people and all faiths. We've found that the principles of godliness are a way to bring favor to your people and to your company. We think God is not limited to our church or our prayer life. God's in the business, too. We're not the owners of this business but stewards of it."
They must be doing something right. Right now, Herr Foods is in a marketing war with Utz of Hanover, Pa. Both companies are small fries compared to national giant Frito-Lay of Dallas, which makes two out of every three chips (corn and potato) consumed in the U.S.
Godliness aside, that Utz and Herr Foods have survived (Utz was founded in 1921, Herr's in 1946) has to do with customer loyalty. Utz and Herr's outsell Frito-Lay in Baltimore and Philadelphia, respectively. Still, the snack industry remains brutally competitive, with new snacks, as well as new variations of familiar snacks, vying for shelf space in supermarkets, convenience stores, and snack machines.
Some of these new products are market driven: After the potential health hazards of trans-fats were made known, Herr's joined the rest of the snack industry in eliminating trans-fats from its food, and introduced a low-salt chip and a low-fat baked chip. Though the company's best seller remains its first and original "Blue Bag" salted potato chip, its barbecued-rib flavored chip is gaining ground. The company has also scored a hit with its Honey Wheat Whole Grain Pretzel Sticks, whose high fiber count earned it a place among the "125 Best Foods for Men" in last November's Men's Health magazine.
The company can spend years developing a snack or flavor. The snack is tested on family members, whose taste doesn't always match the market. "We had this grand idea that we would make this chocolate-covered, peanut-butter cheese curl," Ed Herr laments, "but it just didn't work. We weren't sure about cheddar-horseradish because we didn't know how many people liked horseradish. It's the kind of thing that you either like or you don"t, but a lot of people like it."
Two trends have challenged—some might say threatened—the industry in the last few years. The first is proliferation of non-traditional snack foods such as cereal bars, cheese strips, and fruit bars that are filling mouths that used to gobble up chips and pretzels. Add to that a general trend away from salty, fatty food that has become a small, but significant political crusade. Local school boards, seeking to encourage healthier eating, have banned some snacks from dispensers on public school property. Last year the Obama administration suggested that Americans would reduce their annual salt intake if they avoided snacks. Legislators in the state of Maryland recently suggested a "snack tax" on potato and corn chips whose revenue would fund an anti-obesity media campaign.
The Herr family does not have problems with obesity. Ed is rail thin; he plays golf and goes for long walks. His sister Martha raises show horses on another nearby farm. "We do everything we can to encourage people to eat well and have a healthy lifestyle," Herr says. Despite these concerns, he believes that people will continue to eat snacks, especially the salty, greasy kind, because "whenever you're eating snacks, you get a fun feeling, often associated with families, friends, ball games, picnics, and reunions. That fun feeling is a very important part of our lives. At the end of the day, we feel confident that the products, eaten in moderation, with a balanced life of exercise and food, are no threat to a healthy lifestyle."
Blessings in disguise? They just might be.