My single-minded drive to visit India had become something of an obsession in recent years. I gobbled up the novels of Vikram Seth, Jumpa Lahiri, and Rohintin Mistry and wanted to visit their world, however briefly.
I finally got that opportunity in March when my husband and I joined an Abercrombie & Kent group of 11 travelers slated to explore "The Treasures of Northern India." Just as a first-time visitor to the United States can't hope to take in New York, California, the Grand Canyon, the Rockies, the Everglades, the Deep South, etc. etc. in one two-week trip, we, too, had to focus on one geographical area of the sub-continent.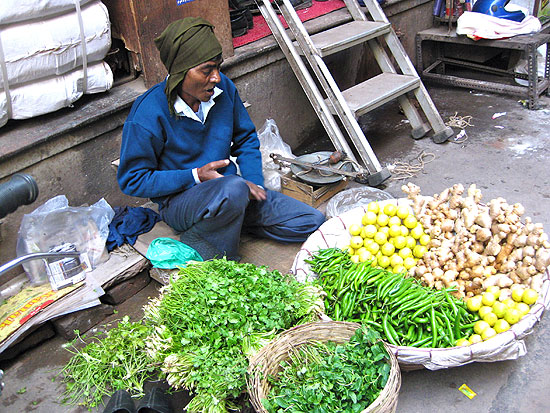 Personally, I didn't much care where we went as long as I got to experience Varanasi. This city on the River Ganges is sacred to both Hindus and Buddhists. It is where funeral pyres light up the night; Hindus believe burning their dead here will allow the deceased to attain salvation and be released from the endless cycle of birth and rebirth. Morning bathers in the Ganges are confident the river has the power to wash away their sins. The Treasures tour allowed us this visit.
We launched our trip by flying into Delhi a day before the start of the formal itinerary. We hired a private guide and driver, which A&K was happy to set up for us, to take us to the Chandni Chowk bazaar, the maze of ancient streets of Old Delhi. Here residents shop for everything from vegetables to duct tape to glittering, bejeweled saris in the tiny storefronts while wild monkeys leap among the rooftops and power lines overhead.
On subsequent Delhi days we saw mosques, tombs, and monuments, but dear to my heart was our visit to the Deepalaya School, where children in challenging economic circumstances are able to learn in an enriching and empowering environment. Sponsorship of the school is one of a multitude of proven grassroots philanthropic projects A&K supports around the world.
Next it was on to Varanasi. A combination of cyclo-rickshaw and foot power took us to one of the many ghats—embankments of wide stone steps leading down to the water. We were rowed in a small boat along the pitch-dark river. Their faces illuminated only by the sacred pyres, families gathered for the mystical cremation ceremonies.
The following morning's row was much less solemn, with cheerful pilgrims splashing in the water in some spots and doing laundry in others.
From there we flew to Khajuraho and toured the complexes of medieval Buddhist and Jain temples with their astoundingly intricate carvings, then spent time in the isolated town of Orchha with its palace and marketplaces.
A train trip brought us to Agra, site of the Taj Mahal.
The next morning we watched the sun rise, gilding the brilliant white marble building erected over 21 years, beginning in 1632, in memory of Mughal Emperor Shah Jahan's most beloved wife, Mumtaz. His parents had forbidden their marriage when the two were in love as adolescents. She was a Muslim Persian princess; he was the grandson of Akbar the Great and of a different religious persuasion. But after two sanctioned wives, Jahan was finally permitted to wed Mumtaz—when he was 19! She died giving birth to their 14th child.
Jaipur—a city created entirely of pink sandstone—is known for its resplendent Mughal architecture, and also for its gem industry. It's been the world's emerald cutting center for millennia. The ornate jewelry worn by rajahs originated here; Indian brides still cover themselves in Jaipur jewelry. Even the elephants are colorfully painted and dressed in gems.
Our guide told me that the two last hotels we were booked at would be unlike anything we'd experienced in our previous world travels. He wasn't wrong. In Jaipur we stayed at the Rambagh Palace. Built in 1835 for the queen's favorite handmaiden, it later became a royal guesthouse and hunting lodge, then finally the official palace of the Maharajah of Jaipur. The palace is known as the "Jewel of Jaipur."
Our last hotel, occupying its own island in the middle of Lake Pichola in Udaipur, was the Taj Lake Palace. Udaipur, the City of the Lakes, is known for its Rajput-era palaces. This one seems to float majestically upon the brilliant blue waters of the lake. It was built in 1743 as a pleasure palace for the young prince Jagat Singh I, of the royal dynasty of Mewar, who enjoyed moonlight picnics with the ladies of his harem.
Twelve days spent in another world, a very long flight home, memories to last a lifetime. My thoughts still often turn to India. I shall return.
For more information on trips like this one, see: www.abercrombiekent.com. In India, A&K travelers frequent Taj hotels whenever possible.
The Taj Hotels
Industrialist Jamshetji Nusserwanji Tata built the first Taj hotel in Bombay in 1903. Indians at the time, no matter how rich or royal, were not allowed entry into the prestigious hotels and clubs in the British-ruled subcontinent. Soon enough the Taj hotel was the site of maharajahly revels. Eventually, Tata conceived the idea of converting the palaces of India into luxury hotels that would include all the amenities one would expect in a world-class hotel: extravagant spas and restaurants, personal butlers, private terraces, magnificent gardens and swimming pools, all steeped in centuries of history. Lounging on my veranda at the Rambagh Palace one day, I was not at all surprised to find myself joined by a strutting peacock; I was feeling pretty much like a maharani myself by then.
See www.tajhotels.com for a complete worldwide directory.