The twisting country lane splits the old farm into two tracts. To the left lies a pasture sown with red clover and timothy, where a draft horse, a pony, and a pair of frisky goats graze contentedly. Nearby, a red wooden barn is just a short toss from an 18th-century farmhouse. Off to the right, the steep slope of Kuerner Hill rises against the horizon.
Andrew Wyeth discovered the Kuerner farm on one of his boyhood walks; he painted his first image of it in 1932, at the age of 15. But Kuerner Hill took on a new meaning in 1945 when Wyeth's father, famed illustrator N.C. Wyeth, and cousin were killed within sight of that seemingly ordinary bump of earth. Their car was broadsided by a locomotive. In the painting Winter 1945 the hill became a symbolic portrait of his father, and the boy running aimlessly down it, himself.
The iconic artist revisited the knoll again in Snow Hill, one of the most haunting, beautiful, and resonant images of Wyeth's seven-decade career. Atop the hillside we view the improbable scene of a Maypole dance at Christmas time.
[quote]
These days the Kuerner farm just might be the most famous in America. It appears in nearly 1,000 of Wyeth's works. Karl Kuerner, a German machine gunner during World War I, settled there in 1926, first as a hired hand and—after years of frugal living and hard work—as the owner in 1940.
Karl and his wife, Anna, are gone. Andy left us last January on a winter's day familiar from many of his paintings: snowy, cold, and moody. Karl, Jr., 82, still pilots a tractor baling hay to stock in the towering barn. The old farm is one of the few agrarian operations remaining in Chadds Ford.
And the tall and fit Karl III, sporting close-cropped gray hair and rimless spectacles, acknowledges he is a fortunate fellow. This Kuerner grandson was blessed with the enviable experience of watching Wyeth at work. It was as natural an occurrence for young Karl as his chores of milking cows, mending fences, and hauling endless bales of hay.
"Andy had open reign of the farm and barn," remembers Karl III, 52. "He had a key to the farmhouse—where he'd paint up on the third floor. It was just a regular part of our day-to-day life. My grandfather had known Andy from a young boy and watched him evolve. He would tell me, 'leave him alone. Let him paint."
"I was born into it, didn't know anything else. You're engulfed in this before you're even aware." It first struck him when visitors from France or Russia marveled that he was brought up "in the middle of all this."
In the world of Wyeth, Karl III's brush strokes have carved out his own mark. Karl began dabbling in art around age ten, doodling his own little world. His father gathered a batch of drawings and presented them to Andy's sister, Carolyn. She responded: "send him over."
Carolyn nurtured Karl's artistic talent for seven years at N.C.'s old studio. Known for her feisty, willful nature, Carolyn also possessed a sensitive soul.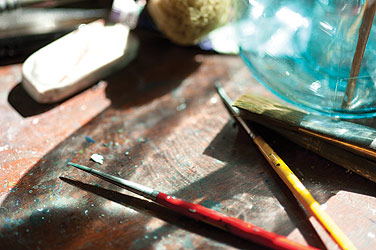 "She treated me like one person to another, not teacher to student" recalls Kuerner. "She never commented on whether it was good or bad, but asked, 'how do you make the painting stronger?' Carolyn used to say: 'you will be doing it on your own some day, so start thinking about it now.'"
Andy also took a keen interest in Karl over the years. At age 90, he reflected on Karl's work: "An artist must paint what he loves and Karl has done just that. His work is inspiring and deeply introspective. It exhibits a strong honest quality that comes from deep within and touches the ordinary in a profound way."
He also left Karl with a daunting challenge: "It's up to you to carry this on. And it won't be easy."
In 1984 Karl and his wife, Louise, built a rustic, rambling home across from the original homestead. Karl's pictures are everywhere. The artist describes his works as abstractions disguised in realism. As you study his works, their witty titles bring a smile.
Wishful Thinking is a picture of one of Wyeth's infamous thousand-dollar bills; Hot Tub shows a latticed-wall glimpse of his grandparents" claw-foot bathtub with wisps of steam floating upwards; Have a Seat, one of their six cats, Chubber, perched on a bench before a bamboo patch; and Sherwood Forest, Louise dressed in a pixie hat and vest. His Dancing with the Wind hangs in the Brandywine River Museum.
Karl's upstairs studio is a broad, open room with a large window overlooking the homestead and barn. Beyond an array of palettes, paint tubes, and bundles of brushes, the room is scattered with unframed paintings, untidy stacks of books, scores of rocks, arrowheads, and antlers uncovered on the property, plus an American folk art owl dangling from a wooden beam.
Louise handles a lot of the mowing on the 22-acre property and tends to the gardens. Her pet project is a dahlia garden. With a blast of different colors, shapes and sizes, her dahlias bring life and beauty to their landscape from late August through the end of October and are considered the perfect flower to cut for home bouquets.
Walking around the rolling farmland Karls smiles, recalling a conversation with Andy just before the exhibit The Two Worlds of Wyeth: The Kuerners and The Olsens opened at the Metropolitan Museum of Art in New York. Did the artist mind if Karl painted his own property?
"To a kid at 20, I mean he's covered it all, so Andy could have just squashed that idea," says Karl. "He replied: 'you're going to have your own way of seeing things so you"ll add a whole new light on the Brandywine tradition … if you follow through on it."
"I"m not thinking 'tradition." I"m standing there wondering what I"m going to do the next day."
Even with all the notoriety, Karl never signed on for the scrutiny. He says some people tend to think he has it made because he has been so closely associated with living inside the Wyeth fishbowl.
"Andy's best advice was to just paint," Karl says. "If you do what you feel you were meant to do, it will come to you. You live up to your own expectations. If you work at it, you"ll find your own path. Enjoy the ride."