History echoes in Philadelphia's centuries-old buildings and historic sites. Its storied past is also portrayed in an exceptional and far-reaching collection of antique prints and maps at the Philadelphia Print Shop.
Tucked on a cobblestoned corner in the lively village of Chestnut Hill, the shop first opened its doors nearly three decades ago.
Perched on a stool behind a front counter, Don Cresswell warmly greets newcomers, part of the brisk Saturday "walk-in" trade. A trim man with a distinguished gray beard and bright smile, Cresswell co-owns the business with Chris Lane who recently opened a "Print Shop West" in Denver.
If the duo looks a tad familiar, you've probably seen them in their roles as expert appraisers on PBS's Antiques Roadshow over the past dozen years.
"People around Philadelphia realize that so many 18th- century treasures were produced right here," says Cresswell, a youthful 69. That's why the owners put Philadelphia in the shop's name; most Americans relate to the city in historical terms. "I tell our patrons they are trolling in some of America's richest waters of antique prints and maps."
A sloping walkway toward the front door hints of the room's former life as a butcher shop. Prints smother the wall space and overflow from racks. Countless oak file cabinets and display cases are stuffed and stacked with antique views all the way to the rear of the building. The shop is as it should be, cluttered but with everything in its place. Poking about is highly encouraged.
There are vivid horseracing and foxhunting prints from the 18th and 19th centuries from both America and England; rich processions of historic moments and political cartoons; stunning illustrations of flora and fauna; the glorious birds of John James Audubon; and more than 100 Currier & Ives Americana prints.
"People love Currier & Ives prints because they tell some of the best stories of life in the 20th century, like folks skating on a lake or a railroad scene," says Cresswell. "The railroad was such a powerful force in America back then."
After graduating from Belmont Abbey College in North Carolina, Cresswell worked at the Library of Congress's collection of Revolutionary War prints. He was then a college librarian and later worked for Graham Arader Galleries, specialists in antique prints and maps.
The Print Shop also sells antique prints and maps—no reproductions—to everyone from the casual shopper, to beginning collectors, to famed institutions.
A collector's approach to choosing prints should be based on theme, publishing history, and condition, says Cresswell. "They are precious artifacts, physical vestiges of which we are as much caretakers as owners. It's better to spend a bit more than one might prefer to acquire an appropriate print. The chance to add that print to your collection may never occur again."
The Print Shop's greatest coup was the sale of the 100,000,000th acquisition to the Library of Congress, in 1993, of 600 original prints and drawings from the early 19th-century artist John Rubens Smith and his family.
The shop employs a staff of seven, and exhibits at four book fairs and 15 major antiques shows around the country, including the Philadelphia and Delaware Antiques Shows.
"Don has been a valued contributor to our success since 1984 and is one of our consistent participants whom our clientele expect to see each year," says Harry Gordon, Winterthur's dealer liaison volunteer at the Delaware show.
Strolling to the rear of the shop the chromolithograph The Old Violin grabs your attention. In the late 19th century, chromolithographs were hailed as "the democracy of art" for middle-class families, selling for less than $10.
The work was created by Philadelphia silver engraver William Harnett, who studied drawing at the Pennsylvania Academy of Fine Art. The painting was purchased by a Cincinnati printmaker who turned it into chromolithographs that sold briskly.
"The blues, the browns, the reds—they all were layered up, and this gave them a texture and richness and feel of an oil painting," Cresswell explains. "Heavy oil-based inks were used to create the effect, and they have prevented fading over time. At antiques shows, people think they're original oil paintings, the quality is that good."
We climb the stairs and enter a warren of rooms where venerable wooden floors show years of foot traffic. Bookcases bulge with reference works, rare plate books, and a broad inventory of antique maps and atlases.
Maps have guided men's steps since the earliest days of civilization. Here, map depictions vary from whole countries to patches of land in this area. The most common paper maps that survive today are those inside books or atlases, but others were created as separate broadsides, folding saddle-bag and pocket maps, and the ever-popular wall map.
The Print Shop's most prized example is a saddle-bag map of pre-Revolutionary War Pennsylvania from 1759 by William Scull. It has survived the typical wear and tear of a folding map and still remains in excellent condition. Its price tag is $110,000.
"To have lasted so long in such good condition is remarkable," Cresswell notes. "It's a wonderful picture of the times."
Early European cartographers represented include Sebastian Munster, Abraham Ortelius, Gerard Mercator, Willem Blaeu, and Englishman John Speed.
You might find some of those mapmakers" gems appraised by Cresswell and Lane on Antiques Roadshow. Part adventure, part history lesson, and part treasure hunt, the program attracts nearly 10 million viewers each week. At each show's taping more than 5,000 folks march into an American convention center to gain free appraisals of yard sale bargains, items salvaged from attics and basements—a range of heirlooms and kitsch.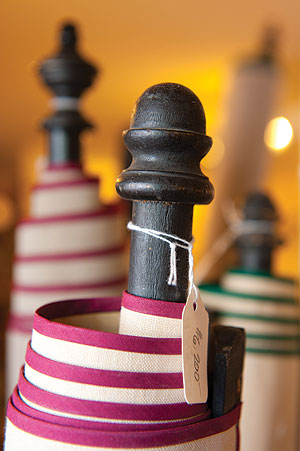 "Initially it was Chris (Lane) who sold me on it, so we auditioned and got the positions," Cresswell recalls. "We have somewhat more outgoing personalities than perhaps some other print-and-map dealers so that might have swayed them."
The partners receive no appearance fee or even expenses to travel to sites around the country. The Print Shop's payoff: Its name and location flashed onto the television screen as they begin each appraisal.
"The exposure has opened the doors to a wealth of opportunities," Cresswell acknowledges. "However, appraisers are forbidden from buying or selling on the floor. There is a table with our business cards that allows folks with valuable items to contact us a day or two later, and sometimes we broker a sale."
Cresswell visited Minneapolis, Atlanta, and Pittsburgh this past summer, where he manned his station from 7 in the morning till 7 at night. The long lines forced attendees to wait hours before arriving at a triage table where the Roadshow's staff initially examines the items.
The fortunate ones get face time with an appraiser. While many believe they possess a lost treasure of Americana, mostly Cresswell is charged with telling visitors that their family heirlooms are not worth much at all.
"After doing the show for so long, you realize that it's as much about the people as it is about the objects," he says. "It's not always about the value of the items. Some are about the provenance or the esthetics, how beautiful the object is. But a lot of times it's more about the fascinating family stories."
For more information, visit The Philadelphia Print Shop website.