A century ago, Chester County hunt country was a region of small dairy farms and large country estates. When a property went up for sale, its assets were understandably promoted. The best properties had a mix of farm fields, timberland, and open meadows, ideally with a spring-fed stream.
Maintaining such properties often required a multitude of skills and laborers: Woodsmen cleared old timber and uprooted saplings; farm managers built fences to prevent cattle from overgrazing. The daily tasks of land management, or stewardship as it's called now, placed a premium on land that was relatively problem-free.
The real estate adage about location was as true then as it is now. A typical farm notice cited the availability of water, or "water in every field," as well as the state of the soil, noting that it was "of an excellent cultivation" or "in a good state of cultivation," or even "recently limed." Appealing to the gentleman farmer who might use the property for sporting pursuits, many ads echoed those of today with descriptions of "commodious" homes, convenient to towns, mills, and places of worship."
Fast-forward to the late 21st century: Veteran Realtor Jim Cochrane finds that a good buyer can be hard to find, mainly because of how much is required of the new gentleman farmer. "They love history and they love architecture," says Cochrane, who established James A. Cochrane Inc. more than 50 years ago. "They are also people who appreciate open space and are committed to preserving it."
In Cochrane's long-term customer base in rural East Nantmeal and West Vincent, the local dedication to open space has changed the way people value property. Many view property values as tied to family, legacy, and quality of life–not how much they can sell it for to a real estate developer, Cochrane observes. Still, with the recent economic downturn, it's been a hard sell. "There not only are fewer people who have the money to buy these large tracts of land, but our agrarian way of life has changed."
Cochrane speaks of early settlement of the land as if it were once part of a Manifest Destiny for wealthy Philadelphians looking for a sporting sanctuary in the midst of the "south fork of the French Creek." Much like Cochrane himself, a transplant who saw the land's foxhunting possibilities, early residents began to acquire land for their horses and children. Along the way, there were house trades and business changes.
James A. Cochrane Inc. is now managed by Cochrane's son Bill, who lives not far from his childhood home, an 18th-century stone house currently used as the firm's offices. The elder Cochrane leaves the day-to-day operations to his son and a small staff of agents, but he still handles an occasional sale and works from his home, another early stone structure overlooking a farm pond on 300 acres.
During the often hectic work week, Bill Cochran and his wife, Annemarie, are typically on the road, Bill overseeing a large sales territory, and Annemarie visiting the horse crowd through her own equestrian product business, T.A.C.K.
Back in the days when the elder Cochrane took afternoons off to foxhunt, there were a lot more working farms. But getting to know your neighbors was done pretty much the same way, through events like the Ludwig's Corner Horse Show and local antiques shows. "The backbone of our business is referrals," he says. "One of the reasons we have survived and stayed in business is that owners have showed loyalty to us and they understand that we are committed to open space."
Today's real estate market is beset by a host of problems, including appraisal issues, an uncertain job market, and an economy that many say has undermined a housing recovery. As Cochrane describes it, the bleak outlook is felt by everyone in the market–on large properties or small. "We are losing sales not because there are not enough qualified buyers," Cochrane says, "but because of buyer apprehension."
In today's lingo, the country estate is more than a description of a certain luxury sector, where a historically accurate restored home might include a Jacuzzi and his-and-her boudoirs; the country lifestyle goes hand-in-hand with a commitment to a community of hardworking preservationists. These include owners of large horse farms who have opened their land year-round to equestrians, and owners of estates who have sold their development rights under Chester County's farmland preservation program or who have set restrictions limiting new home construction on the property.
Conservation easements, in any form, have become the selling point for landowners looking to earn federal income-tax credits–the "bread and butter" of the Cochranes" business.
When an extensive property goes up for sale, it's a good bet that all the neighbors go on alert. In recent years, the newcomers, Cochrane says, have transitioned from sporting enthusiasts to wealthy landowners who see hedgerows and tree lines not as havens for prey but as privacy screens.
"There is no doubt that a need to live on the farm is not in the bloodstream as it used to be," Cochrane says.
Whoever buys any one of three contiguous parcels of Crebilly Farm near West Chester will certainly find himself lucky. As the sales literature describes it, this is the first time the 72-year-old farm has been available for sale–presumably to the buyer who wants a private but smaller property.
Part of the 300-acre property was first sold through a limited family partnership agreement, which allowed the family to maintain the integrity of the farm, buildings, and open spaces. At the time of this writing, three contiguous parcels of 11, 15, and 28 acres were for sale through the Unionville-based Prudential Fox & Roach Realtor, Country Properties.
The firm's founder, Georgianna "Georgie" Hannum Stapleton, is perhaps the only Realtor in Chester County who can claim to have the most experience in limited partnership sales. Stapleton, whose former mother-in-law was the celebrated "Queen of the Hunt," Nancy Hannum, was the only Realtor to work with the limited partnership responsible for the preservation of the former King Ranch land.
The $12-million arrangement remains the largest conservation transaction in the county and preserved 5,367 acres of pristine acreage–much of it with conservation easements held with the Brandywine Conservancy.
Today, Stapleton describes the Doe Run/Unionville region–with its numerous trails and fences set back from the roads for better passageway–as very welcoming to newcomers. Still, she worries that it will be difficult getting new generations to replace those who have had the luxury of staying put for decades. "If you are buying out here in the country," Stapleton says, "the one thing you have to understand is that you are buying a way of life, not just a house."
Realtors have always had to broach certain issues–whether a buyer plans to live in the home for at least five years is a crucial one–but many find themselves also having to reassure buyers on everything from the public use of land and pipeline concerns to tax credits for conservation easements. "What I've seen in the last 30-plus years is a transition, a buyer's market, then a seller's market," Stapleton says. "But we have never seen a buyer's market to the extent we have today."
In reaching out to buyers, one longtime Realtor, Holly Gross, who runs Holly Gross Group from a Prudential Fox & Roach Realtors office in West Chester, underscores her background on her website. One passage reads: "all members of our team own horse farms and are active equestrians."
Holly and her husband and business partner, Dick Gross, live in Unionville, and are active in the conservation group the Buck and Doe Run Trust.
Real estate, Cochrane says, has always been about "what people want." It is one reason why Realtors often work best with people like themselves–they can anticipate needs and wants.
Brandywine Fine Properties Sotheby's International Realty is another example of a small firm with deep roots in the equestrian communities of Unionville-Chadds Ford. The co-owners, Brett Jones and Karen Nader, report on their website that they have experience in navigating complicated transactions and have handled institutional sales such as the Episcopal Diocese of Delaware. However, when it comes to selling horse farms and large properties, it's still about knowing the customer, Jones says.
"Maintenance and upkeep has  been a bit of an issue in this economy," Jones says, "But most people interested in buying a large property understand that. They know it's a tradeoff for the kind of lifestyle they want."
Both Nader and Jones grew up riding–Jones on the former King Ranch property–and now bring varied backgrounds to their jobs. Nader, for instance, is experienced in interior residential design and remodeling.
Jones is very active in the local community: Former chair of the Young Friends of the Brandywine River Museum and Conservancy and still on the executive committee, Jones is also a board member of the Delaware Theatre Company and The Christopher Mosley Foundation. He also serves as the chair of Winterthur's annual antiques show.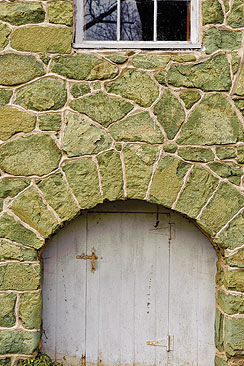 "It's all tied together," he says. "It's never been about the job for me, or about the paycheck."
Regardless of whether a buyer is a gentleman farmer or a weekend warrior, the issue of how to afford a property over the long term remains an issue. Thanks to a state law known as the "Clean and Green" Act, many can survive as part the organic, buy-local movement.
One recent Cochrane sale was a 335-acre tract of formerly foreclosed land, once slated for a 100+ house residential development near Honey Brook. It was acquired by a former bond trader-turned-farmer, Dean Carlson, who established Wyebrook Farm with the idea of bringing pasture-raised livestock and sustainable agriculture to the region.
Bill Cochrane, who handed the sale, describes Carlson as an entrepreneur who made good on a 10-year dream. "He is providing organic food directly to the consumer," says Cochrane, who prefers to speak of a "sense of place" rather than country "lifestyle," partly because the latter can be obtained even in a residential area like West Chester.
"What I think we do is to encourage a sense of community," he says. "We happen to sell real estate and farms but in the end, we really help people find where they are supposed to be."