For centuries, books have kept an important written record of our heritage. With the advent of the Internet, independent bookstores across the U.S. have felt the sharp impact of competition as our world turns increasingly to electronic media.
Once-dominant Borders has gone out of business; many avid readers are wondering if their favorite neighborhood store will be the next to go. The present environment is a challenging one for small, single-shop booksellers, yet a few have survived in and around Chester County, their cozy interiors a haven where people can relax with a classic story.
In 1934, William Baldwin ventured into the book business. His efforts began a family dynasty and a vast collection that is now one of America's premier bookstores. Baldwin's Book Barn is housed in a five-story Quaker stone building which dates back to 1822. The store near West Chester boasts more than 200,000 books, including rare first editions, historic manuscripts, art, antiques, and ephemera.
After running the business for decades, William retired and passed it to his son Tom in 1983. As you walk through the door, you can feel the building is steeped in history, with a wood-burning stove in the entry room near rustic wooden cabinets. Several friendly cats roam the hallways. Famous personalities have come through its doors, including John Steinbeck, Andrew Wyeth, and Gregory Peck. Every conceivable category of publication is here, along with special sections on local and regional history. Strolling through the hallways and side rooms, you see the rough-hewn wooden beams from the original structure, with one sign above a narrow stairway joking "Duck or grouse."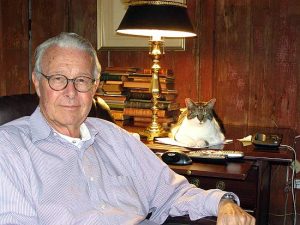 Tom Baldwin is a congenial man, his warm personality coming through as he chats with you about his favorite memories. "I once came across a first edition of The Great Gatsby by accident – the sale price was in the $100,000 range," he says. "We also had an original copy of John Audubon's Birds which sold for $3 million."
Like other book dealers, he's had to embrace the Internet to help maintain his business. When asked about the future of the industry as it competes against electronic retailers, he remains optimistic. "We started using the internet for business back in 1996 – and we've actually seen it pick up a bit recently." Tom feels the store's uniqueness, special events like book signings by local authors and a growing international presence will help.
Tom Macaluso's piercing dark eyes get your attention as you enter Macaluso's Rare Books in downtown Kennett Square, his mature face and white hair the marks of a man who has lived and learned quite a lot since opening his bookstore in 1973. Once a professor of English, Macaluso quickly shows his familiarity with great works of literature and modern classics.
He's even done research into the papermaking process to give him a greater understanding of book production – and allow him to detect potential "fakes." Macaluso's hands have held prized copies of Chapman's Homer, Mark Twain's Huckleberry Finn and Darwin's Origin of Species. His shop offers a wide variety of tomes including first editions, as well as historic maps and manuscripts. He actually does a majority of his business via the Internet and doesn't worry that digital media might overtake books.
"There will always be books – for people who want to enjoy the feel of a great book in their hands," Macaluso says.
Sam Hankin has run Wellington Square Books for six years; the store in Exton is an upscale place with a comfortable atmosphere. A fountain greets visitors as they step inside. Although more modern in appearance, his sense of appreciation of great, classic works from the past is evident as you walk around the store, recently voted "Best on the Main Line."
A member of the Antiquarian Booksellers Association (along with the above-mentioned shops), he's
devoted a separate area to his rare book collection. Hankin even conducts a popular radio show called Avid Reader on WCHE in West Chester. His shop hosts local and nationally recognized authors with book signings and special events.
With the proliferation of Kindles, Nooks and e-books, one wonders whether hard-copy books still will be printed 20 years from now. To many, including this author, a world without books would be a strange and lonely place. These great booksellers feel that books will survive – and their devotion to maintaining a part of our history in print is a testimony to their love for – and commitment to – our heritage.
Gene Pisasale has written two historical novels of Chester County. For more information visit www.GenePisasale.com or e-mail him at Gene@GenePisasale.com