A colorful array of trees, plants, and vines in the middle of a city isn't a common sight to see, but at the Delaware Center for Horticulture in Wilmington, a lush garden awaits visitors.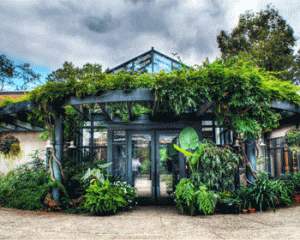 Also known as TheDCH, the center is a place where people with a shared passion for bringing nature to the city work together to strengthen their green footprint and make beautiful public spaces.
"My passion is public horticulture," says Pamela Sapko, Executive Director of the non-profit community resource organization, which has been promoting knowledge and appreciation of horticulture, education, and conservation since 1977. "I love the application of horticulture in an urban environment. I like projects where we can leverage multiple opportunities to make improvements for the greater good. The aspect I like most is connecting people and plants."
One of the projects conducted by TheDCH in the spring of 2012 involved removing dying trees from Rodney Square and installing modern urban forestry technology under the walkways. The new technology allow the newly planted trees, grown for several years at Longwood Gardens, plenty of rooting space to grow even taller, but never damage the walkways around the square.
TheDCH works with volunteers hosting programs and events, raising awareness of horticulture in urban settings, and creating stronger communities. In the past year, the group has grown to more than 650 members and, consequently, has begun planning for expanding and reconstructing its headquarters located on North Dupont Street.
"We are looking to expand our programs, which is why we are making changes to our facility," explains Marcia Stephenson, Membership Volunteer Coordinator. "It will allow us to have better use of the space. We have a committee that has already spent countless hours helping to get through the process of redesign and working directly with the architect."
When it comes to events sponsored by TheDCH, one that attracts a large amount of interest each year is the Wilmington City Gardens People's Choice Tour. In 2013, more than 80 gardens were entered into the contest, and winners were selected based on the popular vote of people who identified their favorite gardens after participating in a self-guided stroll around the city.
"Every year, folks that have participated before and new [participants] are an indication that Wilmington is about 'green' and gardening," says Stephenson. "It's really encouraging to see that."
The entry deadline for the 32nd annual City Gardens contest in 2014 is May 9, with a tour date set for June 21 and an awards ceremony on September 11.
Stephenson sees the contest as one example of how TheDCH brings people together to share knowledge of neighborhood gardening, building community gardens to grow vegetables for food, and sharing in an effort to beautify. "It's amazing," she says. "I'm blown away by the effort and work folks are doing."
The Rare Plants Auction, held each year on the last Saturday of April at Longwood Gardens' East Conservatory, is the center's biggest fundraiser. Plant donors from all over the country gather and contribute unusual, newly introduced, or difficult-to-propagate specimens to this event. More than 100 volunteers regularly participate in the auction, with all proceeds benefiting the center's Community Greening Program.
"The event itself is pretty much a microcosm of how we do everything–volunteer run, driven, and supported," Sapko says. "It's a tremendous amount of volunteer effort, but nets over $100,000."
TheDCH thrives on the power of plants and people. "I feel like our mission is really important–achieving it through the efforts of community, members, and individual [volunteers] and their support," Stephenson states. "We are an avenue to get that accomplished. We are really doing what we say we want to do."
Stephenson adds that the group, led by a 27-person volunteer board, likes to give its members as much creativity as possible. "They'll approach us with something they want to do, and if we think it's possible, we say, 'Hey, why don't you and a group make that happen'," she says.
For anyone interested in helping or joining TheDCH, Stephenson says, "First and foremost, become a member, believe in what we do." Membership with TheDCH not only offers the satisfaction that comes with beautifying the urban landscape, but also provides deals through "Discount Partners" that include botanical gardens around the country and dozens of local retailers.
On the volunteer application, participants indicate their preferred types of activities and programs, and then the center tries to accommodate those choices. Fall events include a "Winter Containers" demonstration focused on creating beautiful seasonal displays, and a workshop about how to construct a classic Thanksgiving cornucopia using autumnal materials.
Donations are also always greatly appreciated by TheDCH. Look for a link on the center's website (thedch.org). Donations go directly to any activity, program, or chosen allocation.
Sapko concludes, "I'm really proud about how we can make a difference through greening and increasing the well-being of a community wherever we have an opportunity."
For more information about The Delaware Center for Horticulture, go online to thedch.org or call 302.658.6262.