"There has been a rebirth of classical architecture in the United States," says Berwyn architect Peter Zimmerman. "And we are well-known in that area."
That's why Zimmerman's firm has been called upon to design new, yet traditional, homes, barns, private wineries, equestrian facilities, and outbuildings across the nation.
According to architecture historian Elizabeth Dowling, "Everybody has this desire for connection and memory that feels comfortable, and it's not always found in modern design." She adds that modern architecture has failed to capture the hearts of many in today's world, and has left "buildings of unequaled boredom" in American cities from coast to coast.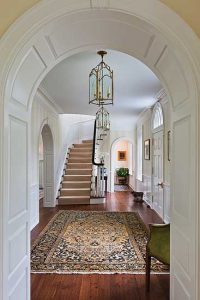 "I think that modernism is an aesthetic that is unfamiliar, that doesn't have any human warmth and comfort to it," Dowling says. "A modern building doesn't typically represent the individual natures of its inhabitants or users, and it doesn't reflect the usual messiness of people's lives from day to day."
In contrast, Zimmerman says all his projects reflect the cultural and historic roots of their settings. He adheres to the historic traditions of architecture, employing classical proportions and scale.
Each new building reflects its surroundings. The residences he designs in Palm Beach, Newport, or the Connecticut coast all blend seamlessly with the surrounding homes and their sensibilities, whether 50 or 250 years old.
We studied two of his recent homes to see how they were alike–in representing their areas of the country perfectly–and how they were different, because they represent two different areas of the country perfectly!
According to Zimmerman, a new build in Wayne, Pa., –is reminiscent of a late 1700s to early 1800s Pennsylvania farmhouse. Sitting on land protected by conservation easements, this house was designed to look as if it had grown over time.
"The functional and aesthetic organization of the house is anchored by a four-bay formal mass consisting of two primary floors, which include five complete bedroom suites, and plenty of formal and informal living space. There is an architectural hierarchy that clearly defines these formal and informal living spaces. There is also an attached three-bay garage that opens into a spacious mudroom.
"The expansive views from every room provide a light and airy feeling. Elegant detail and proportion combined with a variety of different materials create a house that is both formal and familiar; meeting the requirements of a modern family."
A new home in Fairfield, Conn., on the other hand, also looks hundreds of years old, but was built on the site where a much lived in and modified house had existed for more than a century. "The site and the original house were a familiar landmark for local residents," Zimmerman says. "In order to honor the memory of that home, our design approach was to create a house in the local vernacular, true to the cultural and historic architectural traditions of the area. We wanted the house to fit seamlessly on the existing footprint, nestled among the mature, deciduous trees on the property, with a series of additions that met the lifestyle needs of our clients.
"There was an architectural hierarchy created starting at the more formal front of the house using larger masses and more architectural detail. As one moves through the house there is a noticeable reduction in the scale and related but less detailed architecture. This is an appropriate hierarchy that would be evident in a pristine house of this era.
"The interior spaces are traditional, though they have an open, airy, transparent feeling without forfeiting classical proportion and scale. The incorporation of antique and salvaged materials within the new structure helps complete the illusion of an old house. All materials were carefully refinished and installed using time-worn techniques and Old World craftsmanship."
Explaining the very appropriate differences in the two homes, Zimmerman says, "Fairfield is located on the Connecticut coast, about an hour's drive from New York City. During the 18th century, unemployed boat builders in the region constructed houses for supplementary income. As a result, many of the area's 18th- and 19th-century residences were built with wood and featured detailed interior millwork. In Pennsylvania, there wasn't that same tradition. They were farmers who were much more adept at working with stone."
Zimmerman notes that Pennsylvania farmhouses grew like telescopes while New England farmhouses did the reverse.
"There is what I call a 'head house,' which is the main mass that fronts the street, and then it tended to extend out the rear to connect to barns," he says. "These additions and masses that were added show the clear articulation of different volumes. The fact that they are not all designed and built with the same detailing and scale indicates that there would have been an older house.
"As the family became prosperous, they built formal masses at the front; subsequent additions were built later as multiple generations lived in the same house."
The Connecticut house also has a new barn on the property that Zimmerman designed and built. But you'd never know it hadn't been there since 1820.