Andiario and his wife, Maria van Schaijik, helm one of the region's hottest restaurants.
Photographs by Steve Legato
Anthony Andiario and Maria van Schaijik wanted the sort of restaurant where people strolling down West Chester, Pa.'s Gay Street late in the day could drop in for dinner. And while that sounds like a good idea in theory, you'll want to make a reservation at the couple's eponymous eatery, which has become one of the region's hottest dining spots.
At the moment, it's all quiet at Andiario—dark except for the kitchen area, where the chef is busy hand-making the pasta for which the restaurant is known. He produces it daily with an almost ritualistic efficiency, while van Schaijik deals with the occasional vendor or the curious person who wanders inside. The open kitchen isn't large, but it is wide. From its vantage point, you can look out across the tables and chairs and into the street beyond.
"I'm preparing two kinds of dough," says Andiario, a friendly but focused man in his early 40s. "I'm making egg pasta for tortelloni and water pasta for fusilli."
In cool weather, the tortelloni might show up on the menu with pheasant, butter and sage. The fusilli is more likley to be accompanied by cauliflower and a ragu of Point Judith calamari.
Andiario rolls out the pasta, forms it into balls, then rolls it out again. That done, he pulls the dough in strips through an electric roller to uniformly flatten it before quickly attacking with a rolling cutter. Finally, with nimble fingers, he forms the tortelloni into origami-like shapes before storing them until the evening.
Whereas inquiries like "Have you eaten at X's new place?" seem to dominate the dining conversation in larger burgs, West Chester is far enough outside the culinary orbits of Philadelphia and Wilmington, Del., to generate its own distinctive foodie vibe. And it seldom has to worry about any sort of buzz regarding which chef is being recycled where.
So there was genuine excitement when word spread that a hotshot young couple with Pennsylvania roots had moved from Arizona and was in the process of outfitting a new restaurant in what had been a bakery, a salad bar, then a clothing store. "People still come in and tell us what they remember about the place," says van Schaijik.
Word of mouth was huge in the weeks after Andiario opened in March 2018. It soon reached the ears of Philadelphia Inquirer critic Craig LaBan, who loved the restaurant. His opinion is respected widely enough around the region that walking into Andiario off the street without a reservation—except maybe midweek—has become problematicLaBan's review proclaimed Andiario "one of the suburbs' best new restaurants and the borough's most sophisticated since the closure of Gilmore's."
Also on Gay Street, Peter Gilmore's haute-cuisine BYOB threw in the dish towel in 2012 after 11 years of exquisite foie gras and spun-sugar apples filled with chocolate mousse. Locals still mourn the place, though apparently mourning is easier than showing up regularly when it was in business.
Growing up in the Scranton/Wilkes-Barre, Pa., area and graduating from Penn State University, Anthony Andiario spent some time in Italy before settling into a 14-year kitchen stint in Phoenix. There, he earned his stripes at Quiessence Restaurant at the Farm at South Mountain, where he became executive chef and fell in love with farming for food before cooking it. That success was followed by the 2016 debut of Tratto, which he opened for superstar chef Chris Bianco.
A vibrant, intelligent woman who moves with a ballerina's grace, van Schaijik has her own story. Her parents are both philosophers who now live in West Chester, though she and her four younger siblings spent a considerable part of their youth in Europe. After receiving her undergraduate degree in economics and history from the University of Dallas, she moved to Phoenix to work on her master's degree in statistics at Arizona State University, where she also taught statistics part time.
Van Schaijik also found time to work in one of Bianco's restaurants, where she met Andiario. Before long, the two decided to come back east, with van Schaijik taking the lead in general planning and scouting locations. "She did an entire market analysis of West Chester in the morning, basically before I'd even gotten out of bed," Andiario confided to the Phoenix New Times. "She's really smart. She loves food; she loves wine."
The parting with Bianco was amicable. "Chris was out to see us this summer," Andiario says. "We still talk once in a while."
In addition to putting her economics background to good use at Andiario, van Scahijik also does employee training and runs the front of the house with cheerfulness and efficiency. Andiario admits that he's not one of those chefs who loves the hellish kitchen atmosphere that goes over so well on reality TV. So van Schaijik's approach fits well with his "casual, in-control" style.
Part of that style is having a simple menu—though one with no easy choices. Typically, there are three or four items in each of four categories for diners to anguish over: Beginnings, Pasta, Proteins and Desserts. A guest might walk out into the West Chester night having feasted on sea scallop carpaccio with pickled blewit mushrooms and shaved chestnuts, hand-rolled candele pasta with beef Genovese, a whole Pocono trout grilled over juniper branches, and an apple honey tarte tatin with ginger ice cream and candied sage—all of it perhaps accompanied by a Va La Vineyards red or a Galen Glen white.
When it comes to his restaurant, Andiario knows the type of chef he is and what he wants his place to be. But he admits it's not always easy to put this concept into words. He's a culinary composer who knows the score, but the lyrics are harder to come by.
Andiario floats the label "adaptive Italian" to describe his oeuvre. And while that might describe the geography of his cooking style, he insists on ingredients coming from local farmers, as opposed to something more "Italian like" in origin. He still misses the farming part of his Arizona experience, noting that he and van Schaijik spent a lot of time roaming around local farms before opening their doors in West Chester.
Andiario sources locally made flours for his pasta, and his larder is full of local cheeses and vegetables. He also has foragers at work as emissaries in local forests and meadows. For meats, he prefers to get animals whole, then do his own butchering. "People we source things from always ask for a lot of feedback into what we want and what we're thinking," he says.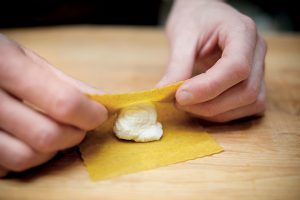 Van Schaijik is also busy searching out superior Pennsylvania wines for her list—something other upscale local restaurants are finally doing.
His last tortelloni shaped and stored away, Andiario is asked what a typical day is like. He displays a small notebook with neatly written entries, explaining that his day actually starts the evening before, after the last dish passes over the counter and a few guests linger over dessert and coffee. It's then that he takes out his book and writes down ideas while they're still fresh.
The next day, when he's not making pasta, he mulls over his notes. "We might make one or two changes in the menu," Andiario says. "Today, I'm going to make a capon ragu sauce, and we'll see how long that lasts."
Later, Andiario shows me his cellar, where he's doing some pickling and other methods of preserving. Even so, he doesn't seem as obsessed as some other seasonal chefs with finding 57 different ways to make root-vegetable dishes in the colder months.
"Some people still come in holding the [Craig LaBan] review," says van Schaijik. "But we really don't consider ourselves trailblazers."
If anything, one of the things that's so endearing about Andiario is that its owners don't want to try too hard. Although they are deadly serious about serving fine food, they prefer a calmer approach with a longer, more measured view of success.
"Every night that we can walk out and feel good, that's really nice," Andiario says.
106 W. Gay St., West Chester, Pa., (484) 887-0919.