With the end of summer fast approaching, it is time to make sure you experience all the great wines meant to be enjoyed during these sweltering and most social days of the calendar. Whether you are looking for something refreshing and refined to cool you down while relaxing on the back porch, something robust and full of character to go with the perfect picnic or family dinner, or something tantalizing to share with friends to punctuate the season, we offer you a hand-picked list of wines to indulge in and make the most of the fleeting summertime sun. Recommendations, food pairings and select tasting notes were provided courtesy of Brenden Bichy, Certified Specialist of Wine

1) 2011 Matanzas Creek Winery Sauvignon Blanc Sonoma County (California) Enjoy an "intensely perfumed, fresh bouquet of lime, bright pink grapefruit and lemon thyme combined with notes of green melon, pear and papaya. With a fine medium body, this sauvignon blanc makes for a great fresh food-friendly wine," (Winemaker's Notes). Chilean Sea Bass, or any kind of grilled white fish cooked in herbs and butter would be a divine pairing, as would simpler dishes such as fish tacos, raw oysters or mussels cooked in garlic butter.

2) Louis Jadot Puligny-Montrachet (France) This first-rate wine, from the AOC of Puligny-Montrachet, located within the Cote du beaune region that lies within Burgundy, is characterized by "distinctive aromas that include almond, fern, exotic fruit, amber and white flowers." Although it's complex, the acidity in the mouth is rather subtle. Impressively, any extra bottles can be aged between 8 and 12 years, if so desired. This is a superlative chardonnay "destined to honor Haute Cuisine as part of wonderful shellfish cooked in bouillon, creamed and poached fish, and poultry liver pâtés." For simpler food options, it also complements the tastes of lobster excellently, and is a textbook pairing for particularly strong-smelling cheeses such as Munster and mature Comté (Winemaker's Notes).
3) 2012 Husch Chenin Blanc Mendocino County (California) On the nose of this brisk blanc there are aromas of almond, honeydew, white flowers, honey, red apples and a bit of wet stone. On the palate one can detect flavors of melon, honey, orange zest and a bit of lime, along with a touch of residual sugar to round everything out. It would surely go well with any kind of spicy Asian cuisine, or it can be paired with a salad with a sweet dressing and dried fruit (Brenden's Notes). "The 2012 vintage in particular has lovely aromas of fresh stone fruit, honey and melon, and is reminiscent of wet pavement after a summer storm. On the palate, this off-dry wine is vibrant, zesty, round and rich with flavors perfectly matching the sweet aromas. Even 'non-wine drinkers' have been known to fall in love with the Husch Chenin Blanc, the ideal wine for a picnic, fruit and cheese course, seafood, and perhaps your favorite spicy dish," (Winemaker's Notes).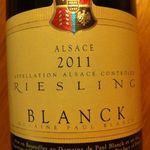 4) 2011 Paul Blanck Riesling Alsace (France) This delightful wine has flavors and aromas of apricot, white peach, honey, orange rind, honeysuckle, mango, white pepper and Granny Smith apple. Aromatics of wet stone, minerals and white flowers are also prevalent (Brenden's Notes). As a wine of high class and character, it should age particularly well, with medium-plus acidity and a medium-plus finish. It pairs excellently with a dish with a white cream sauce or richly flavored pork. Baked cod with olive oil and lemon would be especially tasty – though the wine is also delicious by itself.
5) 2011 Ridge Geyserville Zinfandel (California) The most evident aromas in this tannined treat include "bramble fruit, mint, gravelly earth and sweet oak, with flavors of black tea, sweet cherry fruit and a complex minerality. Sensuous and layered, it has medium chalky tannins and lively acidity, with a long and savory finish," (Winemaker's Notes). Ridge is known for making several Zin-heavy wines based around balance and ageability, which contrast with many other domestic Zinfandel blends that go for sheer "jaminess." Such a nuance makes wines from Ridge superior for pairing with summer food, like baby back ribs, BBQ chicken, pizza and Italian sausage.
6) 2010 Torres Salmos Priorat (Spain) A wine of power and refinement, it is replete with flavors and aromas of candied cherry, black currants, black cherry, forest floor, leather, cocoa, vanilla, baking spice, cloves, black pepper and strawberries, with good spice notes in the background. It is very dense at the start but gains subtly with consecutive sips, with a medium-plus finish (Brenden's Notes). A robust wine with character and quality to spare, it makes a great pairing for a sirloin or flank steak. Wild game dishes would also pair nicely, as would pot roast and even beef stew.
7) 2010 Argyle Reserve Willamette Valley Pinot Noir (California) Coming from one of the best sourcing sites in Oregon, this pinot noir has panache from spending 12-14 months in French oak barrels. On the nose you get spiced meat, musk, tomato, red cherry, cola, steak seasoning and a bit of orange rind and raspberry (Brenden's Notes). It is a mouth-filling wine with good acidity on the finish, with a level of quality you are sure to remember. It goes wonderfully with tenderloins, pulled pork sliders, grilled salmon and yellow fin tuna steaks.