Art-covered walls are nothing unusual in our area, where the artistic tradition started by the Brandywine School still runs strong. The thrill of acquiring a painting that resonates and finding the perfect spot for it lifts our spirits and transforms a room. So it's disturbing to think that a treasured piece of art may be deteriorating right before our eyes.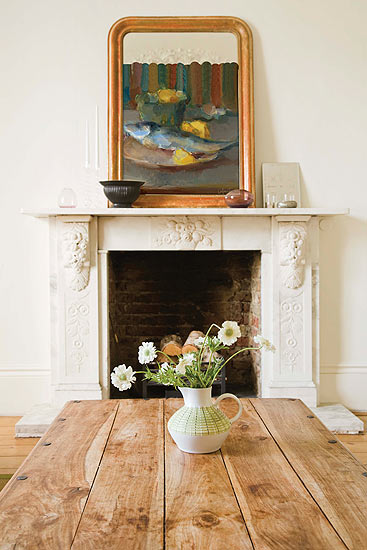 It's easy to miss the warning signs because changes in pigments, paper, and canvas are usually gradual. Once a painting is hung, we do little more than give it a quick dusting. But there are several steps we can take to ensure that we'll be able to hand down that heirloom painting to our children.
Creating an art-friendly environment
Heat, humidity, and light all take a toll on artwork, says Brandywine River Museum curator  Virginia O'Hara. "Try to keep the house on an even keel in terms of temperature and humidity. Fluctuations are a problem with any kind of artwork, particularly drastic changes," says O'Hara, who oversees the care and well-being of some 3,800 works owned by the museum.
Humidity is a huge problem in our area–just think back to last summer's continual rains followed by Hurricane Irene and flooding. Many of us discovered mildew growing where it had never been before.
A common problem with homes, particularly old stone houses, is "rising damp," O'Hara says. "Moisture in the ground travels up through the stone. So you don't want to hang works on the supporting exterior walls unless you're sure they are dry."
O'Hara's eyes scan each painting as she walks through the museum's climate-controlled galleries. The former mill that houses the museum sits just steps from the Brandywine, which sometimes surges up to the building at flood stage. Floodgates and water pumps keep the water at bay.
"It's a matter of checking," says O'Hara. "Most people leave things on the walls and dust the top of the frames once in a while. But if you look behind them, they can get pretty dusty." The museum staff uses a fine badger brush to remove dust from the surface of oil paintings, which usually are framed without glass.
O'Hara recommends taking down art-work periodically to look for evidence of mold, which can grow both on the frame and the picture inside. Works on paper are more vulnerable than oil paintings since the paper can readily absorb water. Reddish-brown spots called "foxing" may appear on a print'a sign the paper has been exposed to moisture.
Excessive heat and light are other factors to consider when placing artwork. Avoid hanging above heat vents and working fireplaces, which produce dry heat and soot. Cigarette smoke is also detrimental.
"On occasion we have acquired paintings that were exposed to cigarette smoke and then have them cleaned," O'Hara says. "They're yellow with nicotine—it has an acidic effect on the painting."
Though it's hard to avoid if you have large expanses of windows, exposure to light fades art just as it does fabrics. At the museum, works on paper are rotated out every ten weeks to minimize exposure to light. At the very least, keep artwork out of direct sun or bright light and avoid using art lamps over paintings.
Getting professional help
"A pile of wet stuff" is how Justin Burruano describes what one client brought in recently to ACA Paper Restoration in Devon. More typically they deal with tears, rippling, brown spots, and acid burn on watercolors, pastels, prints, antique maps, and posters. Mold was a common problem after last summer's lingering damp.
"Do not try to remove mold," Burruano advises. "This can grind the spores into the paper, making it difficult to remediate and clean. If mold has begun to grow, keep the piece in a dry envelope. Or put it in a plastic bag in the freezer–it helps slow mold growth."
If you have a damaged work, two options are available: conservation or restoration. "Conservation is taking a piece and making sure that it doesn't get any worse," Burruano says. "That kind of work is not going to affect the appearance of the piece other than if it was rippled or folded."
Restoration is a more exacting and expensive option where the goal is to bring the work back as close as possible to its original appearance. The ACA team of restorers has handled works by Chagall, Picasso, Calder, Warhol, and Liechtenstein, plus a few Rembrandts and Durers.
"A lot of the works we get are from the mid-20th century. You didn't see a lot of standard archival framing until at least the '70s," says Burruano, who deals with collectors and galleries as well as the general public.
The Frame:
Best in a Supporting Role
The well-chosen frame never grabs the spotlight. Framing is designed to complement and protect the artwork. If you look at Andrew Wyeth's paintings, many have unique frames of weathered wood or hand-carved detail that pick up a texture or color in the work.
Choosing the right frame, mat, and type of glass can be daunting when faced with endless options. Chadds Ford Gallery Director Barbara Moore says the goal should be to create a harmonious picture as a whole. The gallery recently expanded its framing service into a newly renovated room of the red brick and frame house that dates to the 1700s.
"I stay on the neutral side when framing for the gallery. It gives you versatility as to where you can hang a picture," says Moore, who has gotten to know virtually every area artist during the 35 years she's been with the gallery.
She will pick up an element in the artwork to echo in the frame or the mat. If she uses an inner mat to pick up a color in the artwork, just a sliver of color will be visible. "You don't want the eye to go to that piece," she says.
Moore sometimes allows clients to take home an artwork before purchasing. "Our lighting is different than what you have at home. You'll almost know immediately whether it's going to work or not," she says.
Framing with archival materials is a must, and most reputable framers don't use anything else today. If you have artwork that was framed decades ago, it's likely not to have an acid-free mat and UV glass. "We recommend that artwork be taken apart every three to five years just to see what's going on underneath the glass," Moore says. "Even though it's sealed with a dustcover, bugs and debris can get inside."
Although conservation glass is more expensive, it helps prevent color loss from exposure to light. It's important to protect the investment you've already made in buying an artwork, Moore says. "If a regular piece of glass is $35 and the UV clear is $78, why would you not go that extra step? You want to make sure you've got it right."
Painting Courtesy of Somerville Manning Gallery
Somerville Manning Gallery specializes in 20th– and 21st-century fine art and sculpture, including the Brandywine Illustrators and artists of the Wyeth family. The gallery is located in Breck's Mill, at the foot of Breck's Lane on the Brandywine River. Breck's Mill, 2nd Floor, 101 Stone Block Row, Greenville DE 19807 302.652.0271  www.somervillemanning.com