The laundry room is no longer the lost corner in the basement.  It has been elevated to new heights, sharing valuable space on the main level, and even rising to the level above.  No longer an afterthought, it has earned its space in the plan for both function and looks.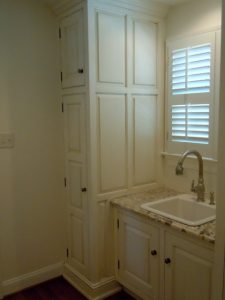 Building cabinetry around the washer and dryer has many benefits.  In addition to needed storage for detergents and laundry related items, it creates the potential for making the laundry a multi-purpose space ranging from a back door mud room to a potting area or home office.  The aesthetic of quality cabinetry makes the space inviting for its task, rather than utilitarian.
Complementing with a decorative tile back-splash is a thoughtful way to introduce more color and pattern for a sophisticated yet whimsical touch.
A well-appointed laundry may also include a counter of Corian, quartz, granite or wood for folding and stacking.  Purchasing appliances with front-mounted controls and doors allows the counter to continue across the top of the appliances, adding eye appeal and valuable space.
Having a sink near the washer is no longer a must-have for draining purposes, but makes a useful space for hand washables, or a safe drain for drippy containers, or footwear.  Make the sink a stand out in material or depth.
Providing quality shelving for accessories as well as storage is a great budget alternative to built-in cabinetry, and doesn't have to look like an afterthought.
A built-in ironing center is useful in several areas, but particularly in the laundry. Units are designed to fit between the studs and easily mounted during construction, or as a retrofit to an existing laundry center or closet. The ironing board and iron conveniently stow behind a handsome door when not in use, and keep the space open and uncluttered.
If your laundry room is on the main floor, but your laundry is not, planning a laundry chute will save the carrying one way.  A well-placed inconspicuous door upstairs guides the laundry to its waiting closet below, where the laundry is discretely stowed until wash time.
Now is the time to make plans for a better use of the space in the basement … and laundry need not be included!
Camille Gracie, ASID, is certified by the National Council of Interior Design Qualification and holds professional status in the American Society of Interior Designers.  www.camillegracie.com