Most of us shop for household accessories using just two criteria: How does it fit into my decor, and is the price right? And that makes perfect sense.
But there's a third criterion we might want to consider: Does the accessory come with a history, does it have its own story? That leads us to antiques, which often have either an intriguing backstory or an inscrutable past; they are conversation pieces that beckon endless speculation and research.
Consider Satsuma porcelain—especially Satsuma vases—which checks all the above boxes for buying accessories, as well as being a category of interest even for the casual antiques collector.
Satsuma refers to a style of Japanese pottery originating in the Satsuma district of the southernmost island of Kyushu, although its production later spread to other areas, especially Kyoto. The location on Kyushu is not incidental, as the island lies across the Korea Strait from Korea. Japan, somewhat surprisingly, does not have a pottery history dating to ancient times, having traditionally importedsuch goods from China. However, during 17th-century raids, potters from Korea were kidnapped and brought to work in Japan, especially nearby Kyushu.
The Western world also largely bought pottery or porcelain from China, hence the name "china" or chinaware (the English for centuries
tended to name their goods after their geographic sources). With the fall of the Ming Dynasty in 1644, many European countries gradually shifted their purchasing to Japan. After its reopening in the 1860s, Japan sold thousands of pieces of porcelain—made in factories and in smaller artist studios—to the West under the categories of Imari, Kutani and Satsuma. Collectively, they were part of the Aesthetic movement, which celebrated art for its own sake.
Although there are many variations of style, typical Satsuma ware is characterized by a creamy beige or off-white background glaze, sometimes uniformly cracked, with scenes of Japanese life, plants, birds or legends, generally outlined in decorative gold. While there are examples of Satsuma that are centuries old, most of what we see dates from the late 1800s into the 1920s, roughlycoinciding with the Meiji Period.
"The recent interest in Satsuma began in the 1970s and 1980s, mainly on the West Coast" says Terry Kovel, whose family is now celebrating the 50th anniversary of publishing its Kovels Antiques & Collectibles Price Guide. "Since that time, they've been appearing in our price books."
Walk into most everyday antiques shops in California and Arizona, and you'll be deluged with stuff from the Western frontier days, including items relating to ranching and pottery and rugs made by Native Americans. But you seldom see the sophisticated, handcrafted antiques that we Easterners are used to. However, there is a large population of Japanese-Americans on the West Coast who are interested in decorating with or collecting items that reflect their ethnic heritage. Satsuma vases are the perfect fit.
As Kovel points out, there continued to be an interest in Satsuma after the 1920s, and many American amateurs and trained craftsman bought "blanks," or unfinished pottery, imported from factories in Asia and Europe. They would then paint them in what was considered to be the Japanese style. There's also a black-gazed Satsuma, a more historic style whose antecedents are usually found only in museums.
It's difficult to make broad generalizations about what's rare or valuable and what is not. It's unlikely that you'll stumble across a museum piece of historical value, so anything that has a smudged look is most likely just poor workmanship. "Distressed" is not a good word. Many have "marks" or brands that might link the vase to a particular factory or artist studio.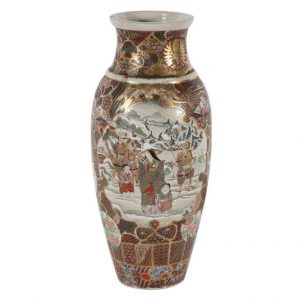 Dedicated collectors can, in time, learn to recognize quality and rarity on examination, but we don't fall into that category. Buy a piece you like that's already been identified by the dealer as Satsuma, then take some time to research its provenance if you're interested. The website www.sasuma-pottery.com is one of several on the internet that have sections on identifying Satsuma marks. A good overview volume is Nancy N. Schiffer's readily available Imari, Satsuma, and Other Japanese Ceramics. The book is loaded with quality photos and commentary.
Of course, eBay is full of buyers and sellers of Satsuma ware. Spending some time online can acquaint you with what's available and the price range—even if you want to do your browsing in person.
If you want to shop for Satsuma away from the internet, which is certainly more of an adventure, it's quite probable that you will find an example or two in most area antiques shops. I have recently found a few pieces at the Pennsbury Chadds Ford Antique Mall on Route 1 and at Main Street Antiques in Newark.
But if you want to go treasure hunting, realize that the ones in most shops have been vetted before price tags have gone on them, though they may still be bargains. Similarly, most major estate sales will have you competing with dealers who know more about porcelain than you do. Treasures and steals are more likely to be found when your grandparents are downsizing and offloading what they've accumulated over decades. Or try yard sales, if the neighborhood is sufficiently upscale.
You might find a beautiful Satsuma vase that you can lovingly call your own.