Photos by Jim Graham
After 48 years of shoeing horses for equestrian events around the world, Stephen Teichman transitions from full-time farrier to consultant.
As a heavy fog lifts to reveal a perfect blue sky, Stephen Teichman is creating his own fog with a horseshoe forged in 2,000-degree heat, which smokes something fierce. He's fitting it on a horse headed for Tryon International Equestrian Center, an eventing stop in the foothills of North Carolina's Blue Ridge Mountains. As soon as he's finished, the trailers will leave the Coatesville barn owned by equestrian legend Michael Matz and his wife, D.D. "Chop, chop," says Teichman.
With his portable shop, the Unionville-based farrier moves quickly from hoof to hoof, wielding a handmade hammer. "In the early days, we made everything," he says.
Right now, Teichman is missing one of two apprentices. Otherwise, "we'd be spinning," he says. "You're looking at me in slow motion. A year ago, we were doing 15–20 horses a day—and then I started working part time. I want a break before it breaks me."
"When I started, there hadn't been any progress. We were still shoeing horses like they did in Washington's day."
It's been an inevitable trot to the finish line for Teichman, who's 48-year career ended late last year. He continues as a consultant, helping others in a profession that craved his innovation and expertise. "When I started, there hadn't been any progress," says Teichman, who turns 63 in September. "We were still shoeing horses like they did in Washington's day."
Hunt Country provides significant geography for farriers. The profession is as niche-driven as the horse hierarchy it serves. Event, dressage and show horses are the Olympic threesome. But there are also jumpers, thoroughbreds, and hunt and hobby horses. Eventing took up 50–60 percent of Teichman's time. Hunt horses never really interested him, and he admits he could've made more money with the show variety. "If a horse isn't worth $2 or $3 million, it doesn't get in the ring at Devon," he says.
"West Chester's Dave Werkiser has been a farrier for 40 years. You really, really have to want to do this," he says. "If not, you can't overcome the discomfort or the working conditions."
Teichman's right hip wore out and was replaced four years ago. He was shoeing three weeks later. "If you haven't been cut or burned or hit a finger by 7 a.m., you will have by the afternoon," he says.
Teichman grew up in St. Davids and graduated from Radnor High School. His father, a geologist for the Pennsylvania Railroad, didn't think much of the farrier profession. He died at age 95 last fall, just as Teichman announced intentions to step down from the U.S. Olympic Equestrian Team after a 23-year run. In the end, his father was somewhat proud. "But he basically blew me off until I went to the Olympics," Teichman says. "Then he realized I must be pretty good."
An Eastern University alum, Teichman earned his second master's degree this past July in a satellite program with the Royal Veterinary College in London, the world's largest vet school. Under the Equine Locomotor Research program, he studied how a horse's shoe surface modifications impact the speed of break-over, a term used to describe when a horse's heel moves to its toe off the ground.
Teichman holds a patent for a medium-weight sport horseshoe. Because event horses challenge their hooves in ways others don't, he often ignored the veterinary playbook. "They'd say, 'This is the disease, and this is the treatment.' I'd say, 'Don't tell me the pathology; it limits my outcomes. Let me do my thing,'" he says.
Fellow farrier Werkiser was in the same Royal Veterinary College program, which had residencies at Penn Vet's New Bolton Center in Kennett Square. He grew up in Wallingford and majored in agriculture at Penn State University. Werkiser once traveled, too— but when he and his veterinarian wife had children, he stayed local. Most of his clients are "weekend warriors, not Olympians."
At home in Newlin Township, Werkiser has three family horses, an off-track thoroughbred and two quarter horses. Like Teichman, he knows he can never fully retire. "I've been kicked, bit, slobbered on, ejaculated on, and crapped on," he says. "But we've also been essential workers, working through the pandemic."
Back at the Matz barn in Coatesville, horses come and go. The conditions will be wet at Tryon, and it's Teichman's job to ensure the shoes stay on. "This is the last time you're going to shoe her," says Jenny Brannigan, who owns the 12-year-old Hanoverian hovering over Teichman. "It's a little sad."
Tyler Held, another who boards here, is also getting sentimental. "None of mine have lost a single shoe all year because of Steve," she says.
Teichman is left-handed, but he switches hands readily—a result of a year of unforgiving Catholic nuns at Saint Katharine of Siena in Wayne. "They made me write with my right hand," he says. "At least in this business, switching hands is helpful—as it is as an artist."
In his home studio, Teichman forges mostly sterling-silver jewelry—like the bracelets he wears on his wrists. He paints, too.
After six cycles of the Pan American Games and another six in the Olympics, Teichman is stepping out of a whirlwind. "It's your identity," he says. "It takes over your life. Who are you if you're not a horseshoer? So much of it was tied to who I am, though it's not who I am. But it feels like there's a big hole."
A hole others must fill. At one time, Teichman had eight trucks on the road and a dozen farriers working for him. Rebecca Ratte has taken over. "She's absolutely, unequivocally the best," says Teichman.
"It takes over your life. Who are you if you're not a horseshoer?"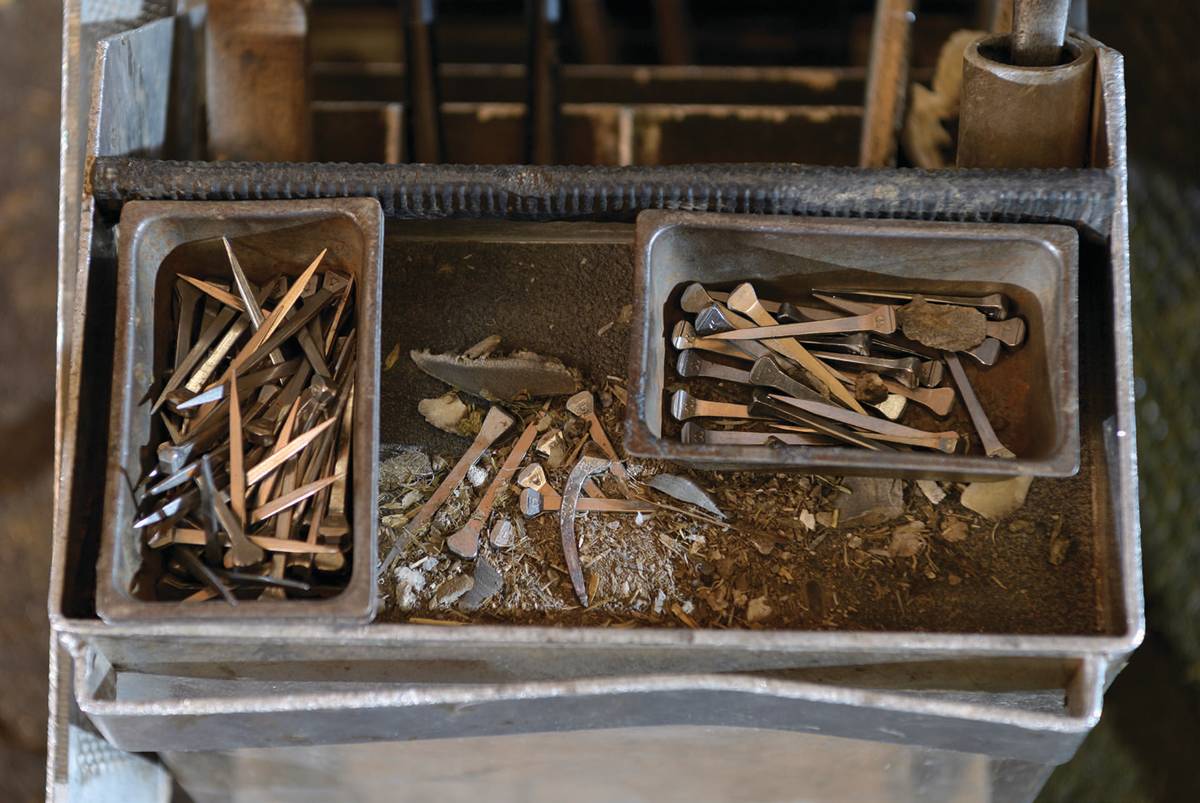 Aly Maxian is the intern with him today. She recently graduated from Cornell University's four-month farrier school, one of about 15 in the country. "It's almost like he was born a farrier," she says of her mentor. "A person like me can't become a great farrier without a Steve."
Related: A Chester County Preserve for the Nokota Horse