There's a reason bears hibernate in the winter: who wants to leave the house when it's 30 degrees, there's a chance of snow and your cave (or fridge) is fully stocked? No, thank you. Winter is a season for staying indoors, wearing oversize sweaters, sipping hot chocolate (or hot toddies, depending on your preference) and binge-watching Netflix (or curling up with a good book, for you readers out there). Here are nine throw blankets perfect for winter hibernation.
Glamour
All About Eve's Margo Channing would definitely love this rich velvet throw. It's the epitome of Margo: bold, glamorous, yet slightly over the top. Channel your inner movie star every time you use it.
ABC Home, abchome.com, $595
Pattern
Curl up, wind down and stay warm with a throw that adds a pop of print to your décor. Pendleton's signature Native American-inspired patterns look beautiful hanging over a chair or at the foot of the bed.
Pendleton, pendleton-usa.com, $249
Vintage
If warmth is your MO, trust the experts. Faribault Mill is one of the last woolen mills in America and has been creating blankets for five generations. The Vintage City Map Throw is available for seven different cities: Minneapolis, New York, Brooklyn, Chicago, San Francisco and London.
Faribault Mill, faribaultmill.com, $180
Fur
Nothing says "cozy' quite like fur, but leave the real stuff on the critters and opt for this faux-fur throw instead. It's super soft, plush, and adds a layer of luxe to your living space.
Ethan Allen, peaceloveanddecorating.com/ivory-mongolian-faux-fur-throw, $179
Knit
Warning: This blanket may lead to extreme laziness. Reminiscent of the afghans your grandmother made, Boll & Branch's cable-knit throw is what every window seat and reading nook needs.
Boll & Branch, bollandbranch.com, $125
Artistic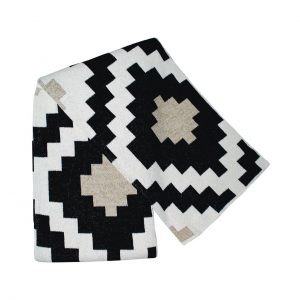 If your style is bold with a touch of boho, you will love Happy Habitat's patterned throws. Made in the USA out of recycled cotton, designer Karrie Kaneda's blankets are "a giant piece of happy art that can be viewed at once across a bed or in little window panes of color, all folded up on a shelf."
Happy Habitat, happyhabitat.net, $160
Fair Trade
Support fair trade with this throw "crafted by master weavers in a quiet mountain village in the Peruvian Andes." Made of 100 percent baby alpaca and hand-knotted macramé fringe, it's perfect for afternoon naps, or if you get chilly while working at your desk.
The Citizenry, the-citizenry.com/collections/blankets, $135
High Fashion
An easy score for the fashionista, Missoni's Socrate Throw is a vibrant addition to any bed, couch or chair. True to the designer's signature style and love of patterns, this blanket is as colorful as it is comfortable.
Missoni, us.amara.com/products/socrate-throw, $737
Cashmere
One word: cashmere. Who needs the gloves or the sweater when you can wrap your whole body in the softest, most luxurious fabric ever created? The Line's lightweight 100 percent Italian cashmere throw works as a blanket or a wrap; perfect for chilly airplane flights.
The Line, theline.com, $995