Experience the 70th Annual Ludwig's Corner Horse Show, a Labor Day tradition, at Ludwig's Corner Horse Show Grounds in Glenmoore, Pa., from August 31-September 2, 2013.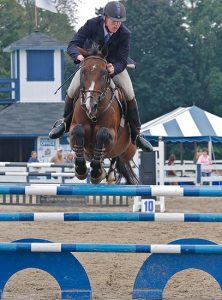 The horse show features about 500 horses competing in around two dozen different classes, which include sidesaddle, equitation, pleasure and classes for families, pairs and hunt teams. The show and country fair run from 8am to 6pm each day.
Saturday focuses on classes for younger riders, schooling classes and equitation divisions for riders from junior beginners to Jack Benny (over age 39). Sunday and Monday feature hunters and jumpers, ranging from adult and child beginners to top regional competitors. The show's highlight, the $7,500 Ludwig's Corner Horse Show Association Jumper Classic, begins about 1 pm Monday.
The Country Fair provides hours of activities for families each day of the weekend, including rides, games, shopping, entertainment, delicious food and an entire tent full of games and activities, including face painting, for kids.  A collection of 35 national and local vendors housed in a circus tent comprises the ?Shops at Ludwig's Corner.? Guests will be able to shop for everything from fudge to teak furniture, fine art to fashions, and show souvenirs to equestrian supplies.
The three days of family fun benefit two great causes ? Horsepower For Life and the Ludwig's Corner Fire Company.  Hundreds of local volunteers annually contribute their holiday weekend to make the event a success.