All aboard Thomas the Tank Engine, a full-sized operating steam locomotive, as he chugs into Strasburg Rail Road for the second time this year.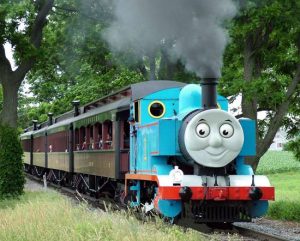 Events are available for all ages. Ride a train pulled by Thomas, meet Sir Topham Hatt, enjoy many other exciting activities, and shop a complete selection of Thomas merchandise in the gift shop.
This event takes place at the Strasburg Rail Road June September 15-23, and November 16-18, 2012. Order tickets by visiting http://strasburgrailroad.com/day-out-with-thomas.php or by calling 1.866.468.7630.
The Strasburg Rail Road was chartered in 1832 as a line to haul freight and passengers from Strasburg, Lancaster County to the main line in Philadelphia. Today, the Strasburg Rail Road is one of Pennsylvania's leading family attractions and is home to museum quality, working, turn-of-the century steam locomotives, freight cars, dining cars, private cars and one of the largest fleets of historic wooden passenger cars in the world. Strasburg Rail Road also holds the unique distinction as being America's oldest short line railroad.