Imagine a pack of robust horses leaping over the sun-spangled signature water jump on the way to the finish line at the 19th annual running of the Willowdale steeplechase in Unionville.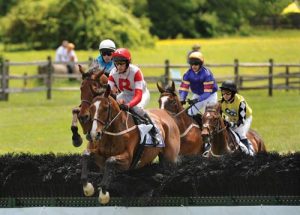 See this and more as you spend the day picnicking on hilltops, shopping at upscale boutiques, and delighting in the kids as they make stick ponies at the Kid's Alley Tent or watch the Jack Russell race.
General admission tickets are $20 per person in advance and $25 on race day. Children under 12 are free. Available parking spaces are assigned on a first-come, first-served basis.
Several options are available for reserved tailgating spaces; prices vary according to location, ranging from $150 to $600, and include four tickets.
Reserved tailgate parking and general admission tickets can be purchased by calling 610.444.1582 or through www.willowdale.org.
Proceeds will benefit three local charities: The Stroud Water Research Center, The University of Pennsylvania School of Veterinary Medicine New Bolton Center, and Quest Therapeutic Riding Services, Inc.
The next racing event will be the Radnor Hunt Races, Saturday, May 21, 2011.