Can adventure and luxury be used to describe one trip? Not for typical travel destinations, but then again, Antarctica isn't an everyday kind of travel destination.
Explore the "White Continent" in style with 11- and 16-day Antarctica itineraries aboard Compagnie du Ponant's new 264-passenger twin mega-yachts: L'Austral and Le Boréal.
See majestic landscapes of glaciers and icebergs as well as exotic wildlife as the yachts leave from Ushuaia, Argentina, travel through the famous Drake Passage, and make several Antarctica landings. Paradise Bay, Culverville, Deception Island, and Neko Harbor comprise some of the destinations, and the longer itinerary also includes South Georgia and the Falkland Islands.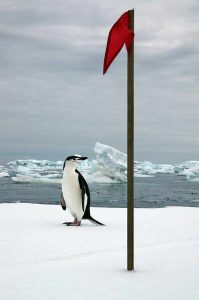 The cruises run from November 2011 to February 2012.
The year-old Le Boréal and recently debuted L'Austral, named "Best New Ship of the Year" by the European Cruiser Association, embody Compagnie du Ponant's dual vision of luxury travel and environmental consciousness.  Both boats feature eco-friendly features such as dynamic positioning, advanced waste water treatment, reduced fuel consumption and emissions, and underwater detection system, making them ideal sailing vessels for the highly regulated Antarctica environment.
Each port further reveals the breathtaking landscape and wildlife unique to this rarely visited region, from the flora and fauna of Tierra del Fuego National Park to the 20,000 Adelie penguin couples in Brown Bluff. As the ship traverses the icy waters of the Atlantic, guests also have access to the expertise of notable lecturers and naturalists.
The 466-foot Le Boréal and L'Austral  offer guests the feeling of their own private yacht. Each ship boasts two restaurants, several spacious lounges, theater, games area, two open-air bars, a swimming pool, library, fitness area, and comprehensive spa.
Included in all sailings are all meals (wine, beer, and soda during meals included), entertainment, excursions, Captain's welcome, farewell parties, 24-hour room service, and all lectures, guides, naturalists, and expedition leaders. Port charges/taxes, gratuities, drinks not listed, and transfers are additional.
The trip includes excursions that require a good amount of mobility and you must pack gear suitable for walking in wet conditions (click for full packing recommendations). Create life-long memories on this exciting adventure to Antarctica.