Who hasn't had thoughts that in a previous life she was, if not a princess, perhaps a countess, a duchess, or, at the very least, a mere lady of the manor?
So when my friend Nan and I drove up the long approachway to the fairytale-like Chateau d'Esclomont outside the pocket-size French village of Saint Symphorien-le-Chateau, is it any wonder I thought, "I am home!" (Nan, by the way, harbors no such illusions about herself; I, on the other hand, am a semi-permanent resident of "Fantasy Island.")
Tucked away in the midst of a 150-acre park just 60 kilometers from Paris is the 16th-century Chateau—complete with a castle-requisite moat, stone bridge, turrets, and openwork balconies—that was the former property of the Duke of La Rochefoucauld. Today, the Chateau d'Esclimont is one of the gems in the collection of unique hotels owned by Les Grandes Etapes Francaises, pioneers in the conversion of chateaux and former mansions into luxury hotels.
Les Grandes Etapes bought the Chateau from the granddaughter of the Duke in 1981, along with many of the original furnishings, paintings, and chandeliers that remain today.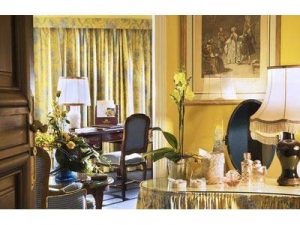 From the moment we arrived, it was as if we had time-traveled several centuries in reverse but had fortunately retained 21st-century plumbing and Internet access. Our spacious "red room"—with red carpeting and traditionally-styled red floral bed linens and draperies—was large enough to include two beds, a writing desk, and sitting area, along with other "mod cons" such as a flat-screen TV and mini-bar. While the room itself was brimming with centuries-old charm, the marble bathroom was elegant—but most definitely of our times (my fantasies of my previous lives do not include Old World plumbing!). The floor-to-ceiling windows looked out over the wide expanse of the Chateau's park-like setting with its lake and resident black swan.
Though the Chateau d'Esclimont is just a short drive from the medieval Notre Dame de Chartres, since our stay was to be a short one, we decided to spend the afternoon simply enjoying the Chateau itself and strolling the grounds. (If you do have more time, or can arrange a stop before or after your visit to the Chateau, I can highly recommend—from a previous visit—a trip to Chartres. The famous Gothic cathedral, built between 1134 and 1260, is included on the list of UNESCO World Heritage sites, and its windows are the most complete set of stained glass windows in France. The picturesque town itself lies in the shadow of the cathedral, on the banks of the river Eure, and is lined with gabled houses, winding streets, humpback bridges, and water mills.)
After a relaxing afternoon, we headed down to the bar for an aperitif and then into the beautifully appointed dining room. For dinner we each had exquisitely prepared beef tournedos and for dessert, chocolat onctueux, a crunchy biscuit topped with chocolate mousse flavored with a hint of Earl Grey tea and accompanied by bergamot ice cream—a combination I certainly never would have thought of myself but one that worked beautifully.
A buffet breakfast—fruit, yogurt, cereals, eggs, cheeses, and meats—was served in another dining room the next morning (this one with the look of a hunting lodge, with beamed ceilings and restored Cordoba leather wallcoverings) and then, sadly, it was time to tear ourselves away from this all-too-brief step back in time. If you too would like to revisit one of your previous lives—or if you simply want a well-earned respite from your current one—put Chateau d'Esclimont on your must-visit list.
If you go:
For more information on Chateau d'Esclimont, visit www.esclimont.com. For more information on Les Grandes Etapes Francaises's other properties, visit www.grandesetapes.com.
It is best to drive to the Chateau, if possible; if not, there is train service to nearby Rambouillet, but you will need to reserve a taxi ahead of time to take you to the Chateau.