We're queuing up on the docks of the charming village of Port Clyde, ready to climb aboard a 65-foot ferry, the Elizabeth Ann. With the passengers, mail, and freight loaded, we steam out of the harbor past Marshall Point lighthouse and a series of pine and spruce-clad islands before reaching the open sea to make our way toward Monhegan Island.
Navigating among the schooners and other boats that traverse the Gulf of Maine, Capt. John Haines points out puffins winging across the water on their northern migratory route. We get up-close views of porpoises and families of brown seals frolicking in the sea or basking in the sun on Seal Rock. Hundreds of buoys mark lobster traps, each marker color-coded to identify its owner.
After an hour, my wife Jane and I step off into a tidy coastal village and hike up past the Island Inn that sports an American flag whipping atop its cupola. Monhegan boasts impossibly quaint houses surrounded by colorful flowers. There are no cars and no paved roads, just narrow lanes and footpaths. A handful of tailgate-less work trucks haul pallets of building materials, propane, produce, and other cargo from the docks to businesses operating on the island.
Barely a square mile in area, Monhegan features a down-to-earth and hard-working culture, where fishing and lobstering families still live and work by the tide clock. The summer resident population hovers around 200, but day-trippers can add another 600 or 700 to the mix. Winter is a quiet and lonely time; the island shrinks to its bedrock population of 65.
Three-quarters of the land is protected in its pristine and wild state by Monhegan Associates, a land trust formed in 1954 by Ted Edison, the inventor's son, who had a summer cottage near the lighthouse. Ringed by high, dark cliffs, the island's interior mixes meadows, marshes, and spruce groves so dense that light doesn't filter through, forcing trees to grow ever taller to meet the sun.
Seventeen miles of natural trails work their way throughout the island "wildlands"—through the forests and meadows, out to the headlands, and along the coves and ledges. On our first day, we invest a buck in a trail map and head to the island's eastern side. After walking for 30 minutes through the island's lush interior, we come upon White Head, which offers some of the highest cliff-top views on the coast of New England.
Unique "fairy houses" are hidden within a peaceful stretch of spruce and moss called Cathedral Woods. Construction of these tiny houses, built from moss, branches, rocks, and other objects, has been a long-standing tradition among local children and adults. However, there is a moratorium on the building of these precious fairy houses to better preserve the Monhegan forests.
A wildlife sanctuary is populated with more than 600 varieties of wildflowers and 200 species of birds, including peregrine falcons, ospreys, and northern harriers, also known as marsh hawks. The Monhegan Historical and Cultural Museum, is housed in the old Lighthouse Keeper's cottage adjacent to the lighthouse.
On our second morning, we are off to the Cliff Walk, where quiet forest aisles are carpeted with deep-piled needles, adorned with ferns, wildflowers, tiny new trees, and mosses. But beware: the going gets steep and the footing rough. Our reward is a series of dazzling ocean vistas. We also come across coves with pools lined with periwinkles and, when the trail veers inland, blackberries aplenty. We eventually come to Lobster Cove, where the rusted-out wreck of the D.T. Sheridan lies scattered across the rocks. Harbor seals can be seen on the Duck Rocks near Pebble Beach, migrating birds use the island as a resting place on their various journeys, and whales can occasionally be seen in their movements north and south.
The island's stunning natural beauty and tranquility has inspired painters such as Edward Hopper, George Bellows, Rockwell Kent, and three generations of Wyeths. Kent first set out for Monhegan in 1905 at the urging of his New York painting teacher, Robert Henri. Kent later built a house and studio on "this wonder island," as he called it, and wrote in his autobiography that Monhegan "was enough to start me off to such feverish activity in painting as I have never known."
Jamie Wyeth's paintings of Maine are primarily inspired by life on Monhegan Island, where both his father (Andrew) and grandfather (N. C.) lived and worked. Jamie purchased the former Monhegan home of artist Kent in 1968. "The ocean is so enormous, such a force," Wyeth noted. "It changes every day. I'm up there in the winter as well, and honestly, I almost prefer it. It's so stark and the storms that roll through and the seas and winds. It's fantastic."
Each summer, painters resolutely become part of the island's landscape. Craggy hills, byways, and rocky perches are dotted with artists squinting into the middle distance and dabbing paint on canvas. Joan Brady, of Annapolis, Md., arrived on the island four years ago for a one-week workshop. A classical realist painter, she rented a cottage this year for the summer season.
"You can stand in one place and rotate 360 degrees and paint everything you see," explains Brady as she paints a handsome, red-sided cottage that faces the harbor. "The island is still rustic, not marred yet by an overload of technology, so the people tend to be more intuitive. You find a sense of yourself, learn to follow your own star."
Many artists hold viewing hours in their studios; locations and times are posted on a bulletin board in the village.
Jan Kulman has been coming to Monhegan for 24 years and shares a gallery with Doris Rice.
"It's a very rich environment," Kulman relates when we pop into her gallery. "There's magic here. You can feel the spirit of all those celebrated artists, see what they saw and painted. All the magnificent colors, the surf and the birds, visitors trudging along the narrow lanes. One of my biggest thrills is bringing students out here and seeing them take all this in."
Don't miss the Fish House. Overlooking the harbor on Fish Beach, it serves a bonanza of fresh fish, lobsters, homemade stews, and thick, creamy chowders. We enjoy a scrumptious lobster roll (brimming with lobster meat) and haddock sandwich at a picnic table while watching a pair of women brave the frigid waters kayaking through the cove.
There are only a handful of places to stay on Monhegan, most open mid-May through October. The Island Inn, a handsome, turn-of-the-20th century, cedar-shingled building with third-floor dormer windows resides just up the hill from the island dock. The much-painted inn offers 26 rooms, plus six more in neighboring Pierce Cottage. The porch and lawn are sprinkled with Adirondack chairs overlooking the harbor. Favorite spots include the inn's cozy library and fire-placed sitting room.
The inn's menu focuses on the locally abundant fresh fare, spotlighting haddock and tuna, lobster, scallops, and mussels, as well as grilled and roasted meats. Soups, chowders, and salads, not to mention home-baked desserts, add to a delightful dining experience. Wine can be purchased from one of several little island stores. Inn guests store wine and beer in the inn's refrigerator until needed.
After a dinner of lobster bisque, steamed mussels, and a pound-and-a-half lobster, we adjourn to the sweeping veranda that overlooks the harbor. We settle in with a glass of wine and conversation with a pair of couples from outside Portland, Maine.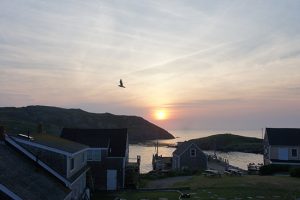 We talk about the beauty of Monhegan's wilderness areas, its relaxed atmosphere, and its unhurried pace. As the sun slowly sets behind nearby Manana Island, we revel in the light purple, orange, and blue of the sky, the water sparkling like diamonds in the light, and the rhythmic sound of waves crashing against each other.
A perfect sunset on this remarkable island.