When planning your next weekend getaway to New York City, check out these three luxurious hotels, each of which offer a distinct East Side neighborhood experience.
The Hotel Giraffe
The Hotel Giraffe is the ideal lavish home base for exploring New York's cool NoMad neighborhood, which is centered in the Madison Square North Historic District. NoMad, aka NOrth of MADison Square Park, is still a bit under-the-radar. Superbly located, the area extends roughly from 25th to 30th street between 6th and Lexington Avenues. NoMad is convenient to just about everything, boarding Chelsea (west), Midtown (north), the northeast by Murray Hill and the south by the Flatiron District.
Offering a true five-star experience, the hotel's quiet luxury extends from the moment you enter the stylish lobby to the wonderfully appointed spacious guestrooms and suites (a few with small, yet coveted balconies overlooking Madison avenue). The guestrooms include 10-foot ceilings, antique-rose velveteen upholstered chairs and ottomans, and black and white original photographs from the '20s and '30s. Chic and contemporary linens, chocolate leather headboards, and pearlized platinum wall coverings offer a touch of glamour in each room.
A rarity in New York City, the hotel's small private rooftop garden is open in the warmer months, available for special events, and is a perfect respite after a day of sightseeing or shopping. In addition to exquisite luxury services, the hotel also features extra touches like a complimentary continental breakfast in the gorgeous lobby and a free wine and cheese reception every night from 5-8pm, offering a great selection of wines, champagne, and snacks. Most travelers will be thrilled to know that Wi-Fi is always free. The hotel always runs luxury promotions, so be sure to check out their "Suite Escapes" packages when booking your stay.
The Benjamin
Visitors will make the most of every New York minute when staying at the Benjamin Hotel, a midtown landmark dating back to 1927. Today, the hotel provides upscale hospitality and modern elegance with plenty of stylish features, such as gorgeous terrace suites and rooms that come with special pillow menus for its signature "Benjamin Bed."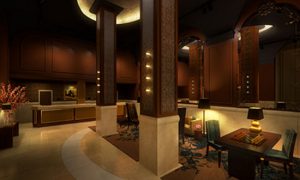 The 29-floor building sits across the street from the Waldorf Astoria. Designed by famed architect Emery Roth, it has actually inspired legendary artist Georgia O'Keefe to paint it from her apartment a few blocks away.
Like coming home to your own private apartment in Midtown, the Benjamin's dedicated staff works hard to ensure that guests feel at home when staying at any of the 209 suites and guestrooms. In fact, you might not want to leave, as all rooms have workstations, 42-inch HD Flat Screen TVs, fully equipped galley kitchens with a refrigerator and microwave, a mini bar, and more. If you wish to bring along your pet, it's all good with the hotel's "Dream Dog" program, offering special services to your canine loved ones.
When exploring this bustling neighborhood, start by dining at Iron Chef Geoffrey Zakarian's hip, modern bistro The National, on the lobby level.
The Surrey
Seeking to reside on the Upper East side? Spend a weekend at the posh Surrey Hotel a little farther North –on East 76th street–and you will truly feel like a local in this exclusive neighborhood known for its classic elegance.
Originally built in 1926 as luxury residences, the Surrey was home to a number of celebrities over the years, including Bette Davis, Claudette Colbert, and even JFK. When the hotel was recently refurbished, the building's historical integrity was maintained and today it has the feel of a tony townhouse with cool and interesting artwork situated throughout the property. You can't deny the Surrey's oh-so impressive address, just a few steps from the famed Central Park and near the city's museums and amazing shopping along Madison Avenue.
The hotel's stylish guest rooms and suites are also an ideal match for the elegant location. They are cozy and modern, yet sophisticated. One of the hotel's hidden charms is a lovely private rooftop terrace. Guests can also get pampered at the dreamy Cornelia Spa (not to be missed!) or enjoy a relaxing meal and a few cocktails at the hip Cafe Boulud.
The hotel will soon be announcing fall shopping packages. In addition, guests staying in suites will now receive several complimentary amenities such as wireless Internet, shoeshine services, a daily international newspaper, and welcome amenity.