Minutes away from the heart of Santa Fe, an idyllic winter getaway awaits with an aura of tranquility set against a dramatic mountain backdrop.
If the state of New Mexico is known as the "Land of Enchantment," then the Santa Fe Four Seasons Resort Rancho Encantado is a precious desert gem that glistens in the sunlight and shimmers at dusk.
At this 57-acre resort, they can choose from a wide assortment of activities that range from the relaxing to adrenaline pumping. For travelers, the resort offers a luxurious experience. The Four Season's 65 casita guest rooms are modern, posh, and private, featuring upscale amenities and spacious terraces that overlook stunning high desert views and are gently tucked into the Sangre de Cristo foothills.
For the spa-lover, this luxe property offers five-star pampering with an array of unique, locally influenced treatments. Several peaceful indoor and outdoor spaces encourage guests to unwind in style.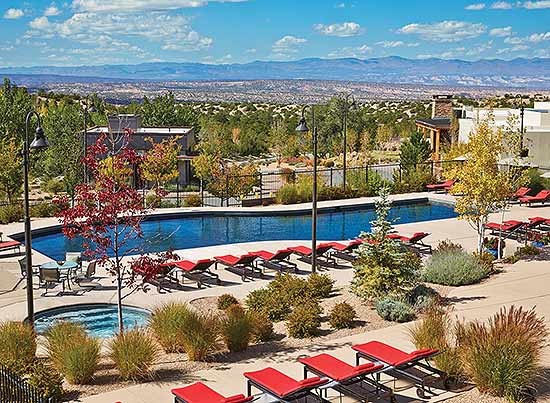 Some treatments were specifically created to address the needs of bodies exposed to the high desert. These include the mountain spirit purification massage, blue corn and honey renewal, and the sacred stone massage. For those sensitive to the high altitude, the spa offers its own special "altitude adjustment" massage, which helps establish equilibrium. The treatment focuses on easing respiration while relieving headaches and other altitude-related symptoms. The spa also features outdoor showers and hot tubs and steam rooms offering extra relaxation, with a dazzling landscape.
Guests who appreciate the high desert and enjoy the outdoors will be thrilled to find hiking, biking, and rock climbing available in the immediate area. As an added amenity, the resort recently launched an "adventure center," a one-stop shop for booking exclusive adventures. Guests can book the Santa Fe Ski package and enjoy a sun-filled day of skiing at the Santa Fe Ski basin or for those who prefer to snowshoe, enthusiasts can book an afternoon snowshoeing excursion. Enjoy a mug of steaming green chile hot chocolate upon return to the property. You can also book a downtown city tour for an immersive overview of this dynamic, 400-year-old city.
Shoppers, food-lovers, and those who wish to get a dose of culture can easily do some urban exploring in the city of Santa Fe, which is just a 10-minute drive away. For on-site shopping, the resort also recently debuted a new boutique, the Trading Post, offering a variety of specialty items for visitors to take home a memory of their time in "The Land of Enchantment." The Trading Post features exquisite items from local galleries and artists, including jewelry and pottery, authentic Navajo rugs, handmade necklaces and scarves, and local art and clothing.
Dining is also an adventure at this Four Seasons resort. The modern restaurant, Terra, not only features a stunning design, but offers seasonal menus. For an authentic dining opportunity, Executive Chef Andrew Cooper recently introduced his special VIP table in the middle of the busy kitchen, and invites guests to truly be a part of the action during an evening dining amongst chefs serving up the delightful appetizers, entrees, and desserts.
Guests are encouraged to assist the chefs in the various kitchen stations, participating in supervised cooking, chopping, sautéing, and preparation. Some favorite menu items include: venison loin with sweet potato purée, vegetables, chorizo and guajillo chile demi; Piñón smoked quail with green chile sausage, beluga lentil cassoulet, caramelized brussels sprouts, and Taos Lightning bourbon reduction. A popular dessert is the apple frangipan cake with salted caramel ice cream, apple fritters, and cinnamon sauce.
Not to be outdone, the adjacent bar's mixologists are pleased to create a variety of delightful sweet or savory craft cocktails made with homemade fresh juices — perfect to enjoy at sunset on the terrace, illuminated by the glowing outdoor fireplace.
For more information, click here.